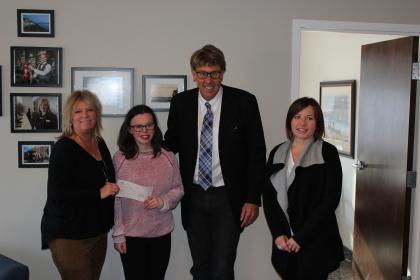 Special Olympics PEI has received financial support from Rodd Hotels & Resorts following the Rodd Everystay Golf Tournament.
Earlier this week representatives from Rodd Hotels & Resorts, including President and CEO Mark Rodd, welcomed young Special Olympics athlete, and past SO Fun Day participate, Holly Griffin into their corporate offices to learn more about the benefits SO Fun Days have on young athletes like Holly. Rodd Hotels & Resorts' $1,500 donation will help support the cost for Special Olympics PEI as they host 8 SO Fun Days this Fall. These costs include transportation for schools to attend, giveaway items for students, and much more.
SO Fun Days are a half day, inclusive, sport fair. Students from kindergarten through grade 12 are invited to attend. Students with an intellectual disability have the opportunity to rotate through a number of different sport stations, while leadership students are invited to either volunteer at the different sport stations, or rotate through the sport stations, acting as peer buddies. At each station students participate in a variety of activities that offer an introduction to many official Special Olympics sports.
Rodd Hotels & Resorts have been a longtime supporter of Special Olympics PEI. Beyond their support of SO Fun Days, Rodd Hotels & Resorts is a longtime supporter of the Enriching Lives Gala, as both a table buyer and a live auction prize donor.
Special Olympics PEI wishes to acknowledge and Rodd Hotels & Resorts for enriching the lives of Islanders with an intellectual disability through sport.