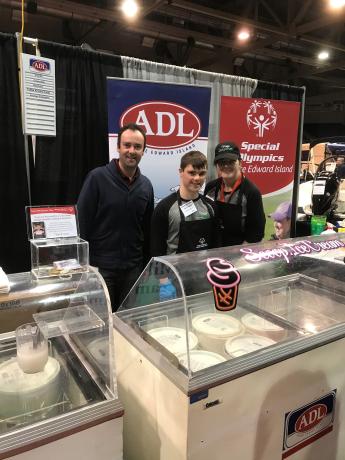 Special Olympics PEI is thrilled to announce that our PEI Provincial Home Show Ice Cream fundraiser was a huge success! Together we raised over $4,700. Thank you to everyone involved in making this fundraiser a success, including our sponsors, Master Promotions and ADL, our volunteers, and everyone who purchased an ice cream!
Special Olympics PEI was Master Promotions Charity of Choice at the PEI Provincial Home Show / PEI on the Move. In additional to offering Special Olympics a free booth at the event, a portion of the proceeds from the Show were donated to Special Olympics PEI. Once again this year Master Promotions presented Special Olympics PEI will a donation of $2,000.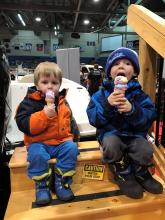 Despite the winter weather, and the threat of a storm, ice cream sales far exceeded our expectations over the three day event. Over 850 cones of delicious ADL ice cream were sold, generating over $2,700 in sales. ADL, a long time community partner, of Special Olympics PEI, once again generously donated the ice cream and the refrigeration units.
The PEI Provincial Home Show / PEI on the Move is a unique opportunity, one that extends beyond fundraising. Thousands of people walked by our booth during the Show, and many stopped to learn more about Special Olympics. New potential athletes and volunteers had the opportunity to learn more about the organization from talking with our members and staff. The level of exposure from an event of this scale is priceless. 
This fundraising event requires a lot of volunteer support. Over the course of the weekend over 50 volunteers donated their time and talents to scoop ice cream. Volunteers included our athletes, caregivers and volunteers. Additional volunteer support came from various Councils of the Knights of Columbus. The Knights are supporters of Special Olympics on an international scale, and we are so pleased to see this relationship growing in PEI. Furthermore, staff from ADL donated their time through corporate volunteerism.  Thank you to everyone involved.