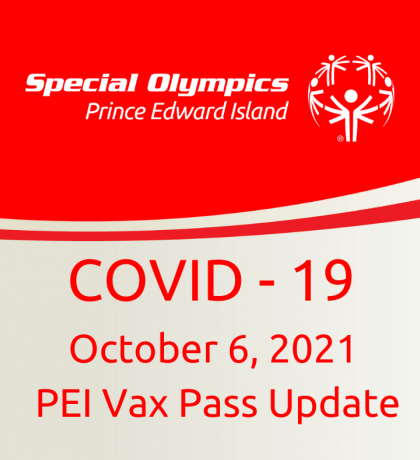 As you are all aware, effective October 5th, 2021, the PEI Vax Pass* program came into effect. (*PEI Vax Pass is your proof of vaccination record until a QR Code is available). This limited time health measure will allow fully vaccinated Islanders and visitors to safely take part in organized community, cultural, sporting and other social events.
As such, Special Olympics PEI will be requiring the following protocols for in-person participation at all SOPEI sanctioned events or activities.
All volunteers 12yrs+ must be fully vaccinated for participation.
All athletes 12yrs+ must be fully vaccinated for participation.
Proof of vaccination will be required at your first night of program and at all competitions, meetings, or events.

Youth 12-19: PEI Vax Pass only is required
Those Youth who are turning 12 years old will have a 3-month grace period to obtain their vaccinations.
Adults 19+: Government issued photo ID and your PEI Vax Pass.
Unregistered individuals who support athletes are required to be fully vaccinated if they wish to attend any program, event, or competition.
To access your vaccine record, please go to: https://pei.flow.canimmunize.ca/en/portal

Anyone who is unable to receive a vaccine or wear a non-medical mask must provide a CPHO approved medical exemption to the SOPEI office.
For more information about the PEI Vax Pass program, please go to https://www.princeedwardisland.ca/en/news/province-releases-more-information-on-the-pei-vax-pass
For those members who are unable to show proof of vaccination, SOPEI will continue to offer our Wellness Champion Program. For more information, please contact Ellen at sopei@sopei.com.
We ask for your patience as we work with all our facility partners to understand their individual requirements. Please note that facilities may also require proof of vaccination upon entry as all our programs and events run out of rented facilities, we must adhere to their rules and regulations. This may result in you having to show proof of vaccination multiple times.
The fall program schedule and sign up will be available starting October 7th, 2021, so we encourage you to watch our social channels for updates over the next week.
If you have questions about the PEI Vax Pass program or require assistance to access your vaccination record, please contact us and we would be happy to help. Our office number is 1-902-368-8919, toll free at 1-800-287-1196 or I can be reached directly at csheehan@sopei.com.
Thank you.
Charity Sheehan
Executive Director