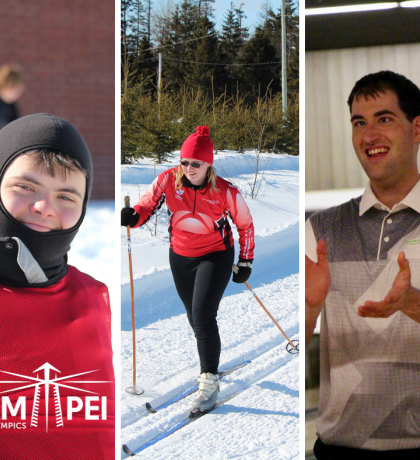 Ahead of Giving Tuesday (Tuesday, December 3, 2020), Special Olympics PEI is launching an End of Year giving appeal. Supporters of Special Olympics PEI are being asked to make an End of Year gift in support of the Team PEI 2020 Booster Club. 
Our goal is to raise $3,800 - that's $100 for each of the 38 athletes on Team PEI 2020!
The Team PEI Booster Club allows local businesses and individuals to sponsor athletes and / or coaches in their communities. Sponsorship of the Team PEI Booster will showcase your support for Special Olympics PEI and will help offset the cost of these Games.
When given an opportunity to experience the thrill of competition at a Special Olympics National event, words cannot describe the positive impact this has on an athlete and their family. Through competition, these athletes gain self-esteem, confidence and strength, which benefits all aspects of their lives.
By supporting the Team PEI Booster Club, you are giving our athletes the full National Games experience, including staying in an athlete's village while attending Games, the opportunity to participate in opening and closing ceremonies, high caliber athletic venues with qualified officials, access to social and Healthy Athletes events, and memories that will last a lifetime.
Support the Team PEI 2020 Booster Club
Donations are also accepted in person at the Special Olympics PEI office - 40 Enman Crescent, Room 240, or with a credit card over the phone - 902-368-8919. 
As our way of saying thank you for supporting the Team PEI 2020, from now until December 20, 2019, if you donated $100 or more towards Team PEI 2020, you will receive a free PEI's Mutual A Special Island Christmas CD. For more details, or to ensure you receive your free gift, connect with the Special Olympics PEI office, either via email at sopei@sopei.com, or by calling 902-368-8919.