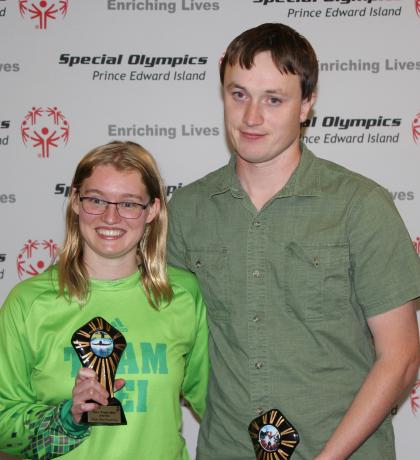 Over 200 Special Olympics athletes, families, friends and supporters gathered earlier this week to celebrate another successful year at Special Olympics PEI's Annual Awards Ceremony.
2016-2017 Award Winners:
Department of Health and Wellness Sport Volunteer Award
Amiee & Jenna Gillis (Summerside)
Amiee and Jenna Gillis are members of a family whose most recent traditions include their weekly involvement in providing Special Olympics sport for the athletes in the Summerside area. Whether it is Basketball, Bocce, Bowling, or Youth programs they are always willing to help out and provide athletes a quality program experience. They do most things together, so as to why they are receiving this award together. They attended the 2017 Summer Provincial Games for Bocce, and have been one of the instrumental factors in the volunteer sustainability for the Summerside area. They have gone over and above on many occasions to drive athletes to and from events as well as empowering them within their surrounding communities. They respect and value the core values we have in our movement: Inclusion, Diversity, Empowerment, Respect, and Excellence. Always pushing athletes to strive for their best no matter the situation, Amiee and Jenna are supportive of all athletes' dreams and aspirations
Dr. Frank Hayden Award:
Sophia Allen (Charlottetown)
Sophia is involved in Rhythmic Gymnastics, Youth Multi-Sport and CrossFit, and has shown great improvement in all. She is always cheering on her teammates - even though Sophia was too young to compete at Provincial Games, she trained with the team in the lead-up, and traveled with her family to watch/cheer on her teammates. She is dedicated to the performance program at CrossFit 782.
ADL Spirit Award:
Rick Chan (Charlottetown)
Rick Chan has come such a long way with his social and athletic skills since he joined Special Olympics. When Rick first started he was very shy and hesitant to try new things. Now, he's chatty and loves hanging out with fellow athletes. He's also going to be attending National Games as part of the bocce team. He is eager to try new sports and getting more and more comfortable with building on his numerous friendships.
President's Award:
Parkdale Sherwood Lions Club
The Parkdale Sherwood Lions Club has been an ongoing supporter of Central fundraising. They are also eager to contribute to Special Olympics Festival. Their passion to support our athletes is not purely financial, as they often are supporting grassroots programming in the Charlottetown area in providing end of season BBQs and recognizing the accomplishments of our hard-working volunteers. The Sherwood Parkdale Lions Club exemplifies the spirit of Special Olympics by giving all they have to support others in the community. They each recognize and empower our athletes for their achievements.
Facility of the Year:
Alberton Bowling Lanes
Special Olympics PEI has been fortunate to have a good relationship with The Alberton Bowling Lanes. The Lanes have supported our local program for many years and the staff is always willing to help other volunteers out by going over and about their duties. Lorie is our go-to person in the lanes. She is energetic and always has a smile on her face. It is an automated bowling facility which enables the athletes, coaches and volunteers to easily run our program. The location of the facility is convenient for our athletes, coaches and volunteers. It is accessible for those that use mobility devices as it does have an elevator. We have seen the group attending through the Fall/Winter increase in numbers and the facility has prepared the athletes well for attending Provincial Games each year.
David Andrew Memorial Award:
Jackie Charchuk (Alberton)
Jackie is a wonderful and helpful parent and mother of Special Olympics athlete, Janet Charchuck. Jackie understands the importance of Special Olympics in not only her daughter's life but all athletes. She does more than just getting Janet to practice but always wants to know what else she can do. Janet's dedication to her daughter Janet overflows to the Special Olympics movement and all athletes. Over the years, Jackie had attended every event that Janet takes part in, even taking the time to fly all the way to Austria during Janet's first ever World Games. Helping in any way she can with all the athletes, helping the coaches by highlighting the heat sheets, and leading the cheering squad for everyone. Jackie enjoys being involved in Special Olympics fundraising/social events, a mentor through ALPs, and involved in her community through the Canadian Down Syndrome Society. Jackie is a prime example of what the David Andrew Memorial Award is all about.
*The David Andrew Memorial Award was named after a Special Olympics family member who passed away in 2002. David Andrew was a shining example of many of our parents and guardians involved in Special Olympics PEI. He was always in the background, supporting his son Scott with all of his endeavors, helping with fund-raising and most of all, cheering his son on from the sidelines. The David Andrew award recognizes all of the unsung heroes—the parents and guardians of our athletes.
Maritime Electric Male Coach of the Year Award:
Jamie Matheson (Montague)
Jamie has been a volunteer coach for a number of years now and has seen the Montague golf program grow to double-digit numbers two seasons in a row. Jamie attended provincial games this past summer hand has been selected to the provincial team training for National games in 2018. It is never about winning and losing with Jamie, it is about having fun and learning new skills. His encouraging personality allows athletes to be themselves while developing their sports skills. He celebrates any and all achievements whether they are related to golf or life in general.
Maritime Electric Female Coach of the Year Award:
Carole-Ann French (Charlottetown)
Carole Anne is a champion of the Special Olympics movement for 15 years. Carole Anne's compassion is best exemplified through her role as Head Coach for Special Olympics PEI's Charlottetown Bocce program. Providing a quality sports opportunity to members of the community she is imparting invaluable life-skills, such as cooperation, inclusion, and teamwork. She is assisting athletes to become productive members of their families, schools, and communities along with providing each individual an opportunity to attend high levels of competition in the sport they have a passion for. The Bocce program in Charlottetown started in the summer of 2014 and had approximately 7-8 attendees. Through her dedication to the sport of Bocce, she has played an instrumental part in seeing the program grow to over 30 attendees in 2017! She attended her second Provincial Games and her first National Games qualifying event this past summer where each of her athletes performed very well. She has been selected as Head Coach for Team PEI 2018 Bocce. Carole Anne is a great ambassador for Special Olympics. She is quick to promote the organization, and is an integral part of the growth of our movement. When not volunteering her time at a sports program, Carole Anne is always eager to lend her time to a variety of special events in support of Special Olympics PEI.
PEI Mutual Insurance Company Male Athlete of the Year Award:
Jeremy Wall (Summerside)
Jeremy Wall has a very competitive spirit. He wants to win and he works hard. He was very successful at Provincial Games this Summer and will be heading to National Summer Games in 2018. Definitely, his sense of humor is unmatched. He puts forth the best effort each week, which reflects a role model for others in the program. Jeremy has improved track times and field events, winning gold medals in every event at the Provincial Games. He sets goals and works to achieve them
PEI Mutual Insurance Company Female Athlete of the Year Award:
Ellen MacNearney (Montague)
Ellen MacNearney is coming off one of her best swimming seasons yet. She attended the Canada Games where she made a final in one of her weaker strokes. Ellen also attended Provincial Games in New Brunswick, winning 6 golds…one for each of her events!! She has worked hard throughout the year to accomplish these feats. She carries a lot of pride and represents the province well. Ellen is always smiling. She is a true Champion of Special Olympics.