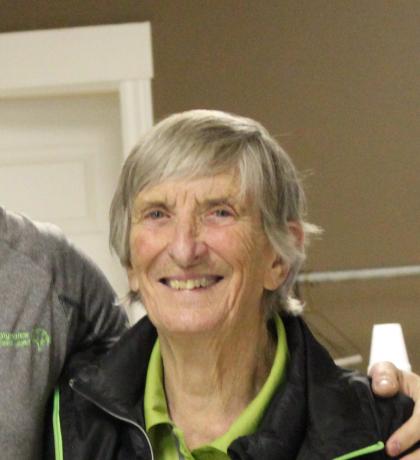 Ann Kilby has been a Special Olympics coach for 17 years. Ann has been our anchor for 10-Pin Bowling for many years. As our only 10-Pin Bowling coach Ann leads two programs in Prince County to ensure both Tyne Valley and Summerside has a coach to support the athletes in those areas. She has been with the program since it began and is currently working with the provincial office to develop it further and get new 10-Pin bowlers involved.
Ann has a true passion for sport and loves to see her athletes succeed and make personal bests. Ask any of her 10-pin bowling athletes and you will soon find out how much they admire and respect Ann. She has a heart of gold and is very encouraging. Ann is a true believer that anyone can succeed and learn new skills if they put the work into it.
Ann has made a significant impact on the athletes in her programs. When PEI 10-Pin Bowling athlete Jenna Smith was named to Team Canada 2015 Ann took on the role as Jenna's training coach. She was an excellent fit for the role and really challenged Jenna to continue getting better on the lanes and in her overall health. Jenna finished with great success at World Games, bringing home 3 Gold Medals.
Ann has played a significant role in Special Olympics Canada's mentorship programs. Ann's involvement with the now nationwide resource for the development of coaches began in the pilot stages. Ann now has the role of being a mentor.
Ann is also involved in her region's fundraising committee efforts which involves attending monthly meetings and supporting various fundraising events.
Ann was named Special Olympics Canada's Female Coach of the Year in 2016.