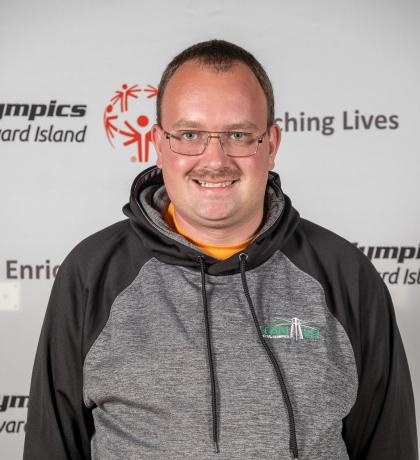 Wilbert Murray, Charlottetown, has been involved with Special Olympics for 12 years. Wilbert, whose family encouraged him to get involved, started 5-Pin Bowling with the Special Olympics Charlottetown Bowling Program 12 years ago. He has not looked back since! He is no stranger to the sport though, having grown up playing candle pin bowling with his school when he lived in Nova Scotia.  Wilbert enjoys bowling because of his competitive nature. 
The Special Olympics Canada Winter Games 2020 in Thunder Bay, Ontario will be Wilbert's first National Games. He is very excited to be representing PEI on the national stage. Wilbert credits his high average going into the 2019 Special Olympics PEI Bowling Provincials, from which Team PEI 2020 was selected, as contributing to his being named to Team PEI. When asked what he is most looking forward to at the National Games, Wilbert says that he is looking forward to bowling. 
Wilbert has worked at Sobeys in Stratford for the past 10 years.  As a Sobeys-employed athlete, Wilbert receives lots of support from his colleagues. Sobeys, a National Partner of Special Olympics Canada, are tremendous supporters of the Special Olympics Movement, and take great pride in Sobeys-employed athletes. Wilbert says that working at Sobeys is a great job, and he loves the people he works with. His colleagues are happy for him being named to Team PEI, and will be cheering him on from home while he competes in Thunder Bay.  
SUPPORT TEAM PEI 2020
If you would like to support Wilbert and his Team PEI 2020 teammates please consider joining the Team PEI 2020 Booster Club. 
When Giving Gives Back!
During Special Olympics PEI's End of Year giving appeal, until December 20, 2019, when you donate $100 or more to the Team PEI Booster Club you will receive a free copy of our PEI Mutual's A Special Island Christmas CD. Support Team PEI 2020, and receive your free gift - Donate Today.