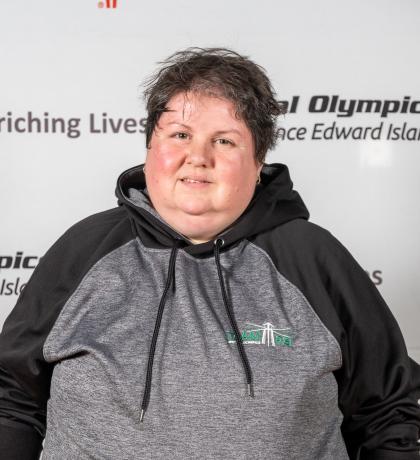 Joni Miner, Summerside, is ecstatic to be representing PEI at the Special Olympics Canada Winter Games 2020 in Thunder Bay, Ontario! Joni, who is a member of Team PEI's 5-Pin Bowling, will be attending her first National Games.
Joni recalls the moment she found out she was named to Team PEI 2020. She was elated, immediately calling three very important people in her life - her aunt, her sister in Edmonton, and her grandmother! She was thrilled to share the news, and to celebrate this accomplishment. Joni says she is looking forward to the experience of a National Games and traveling to Thunder Bay. Her goals for National Games is to do her best!
To prepare for the Games Joni is bowling twice a week and has started a walking program with her Summerside area teammates. Joni bowls on Sundays with the Summerside Bowling Program. On Mondays, Joni, along with fellow Summerside area Team PEI Bowling athlete, Glendon Arsenault and coach Fran Gillis, travel to Charlottetown to practice with the other Team PEI Bowling athletes.
Outside of Special Olympics Joni works at Sobeys in Summerside. She first started off in the bakery department a few years ago, and now works in the freezer section of the store. Joni loves working at Sobeys, and gets along great with her co-workers, often giving fist pumps!
SUPPORT TEAM PEI 2020
If you would like to support Joni and her Team PEI 2020 teammates please consider joining the Team PEI 2020 Booster Club.
When Giving Gives Back!
During Special Olympics PEI's End of Year giving appeal, until December 20, 2019, when you donate $100 or more to the Team PEI Booster Club you will receive a free copy of our PEI Mutual's A Special Island Christmas CD. Support Team PEI 2020, and receive your free gift - Donate Today.