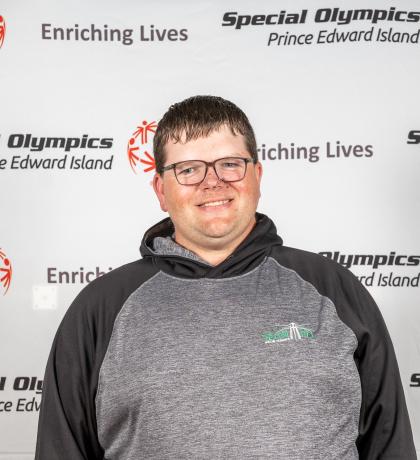 Jerred Affleck, York, is a member of Team PEI 2020's Floor Hockey Team. Despite his young age, he is only 38, Jerred has already had a prolific National and International Games career with Special Olympics. The Special Olympics Canada Winter Games 2020 in Thunder Bay, Ontario will be Jerred's 12th National Games, spanning across 4 sports. This, even more impressively, is in addition to 1 Canada Games and 1 Special Olympics World Summer Games. When asked if he was aware of his impressive Games resume Jerred was surprised, saying he wasn't aware that he had attended so many National Games. Looking ahead, when asked if he would be slowing down anytime soon, Jerred says he still has lots left in the tank!
Jerred first got involved with Special Olympics back in 1997, at the age of 16, when he was a student at Birchwood Intermediate School. At the time Jerred's teacher, Frank MacKinnon had a swimming program for children with special needs. The connection to Special Olympics came through Frank's daughter who was a volunteer with the Charlottetown Swimming program.
Jerred got his first taste of a Special Olympics National Games through swimming. In 1998, when he was just 17 years old, Jerred was selected to Team PEI, and compete at the 1998 National Summer Games. Jerred's success in swimming continued, and in 2001, for the first time, there was a Special Olympics division at the Canada Games. Jerred was one of two Special Olympics PEI athletes to represent PEI at the 2001 Canada Games. Jerred's success in the pool came on the heals of a lot of hard work; he was in the pool training 3 times per week.
Following extensive training for the 2001 Canada Games, Jerred took a step back from swimming. That summer he signed up for Soccer. His time with Soccer was more short-lived, a term that has to be kept in perspective when talking about an athletes who will be attending his 12th National Games this Winter. Jerred played Soccer for 2 years, and attended the 2002 National Summer Games.
Having shown himself to be a true multi-sport athlete, it was no surprise when Jerred took up Softball in 2003. Softball stuck for Jerred, and he has been playing ever since. Over the last 16 years Jerred has attended 4 National Summer Games as a member of Team PEI Softball. Furthermore, following a Gold Medal performance at the 2010 Summer Games, Jerred had the opportunity to represent Canada at the 2011 World Summer Games in Greece. Speaking to Jerred's mother, Rose, she tells about what a fantastic experience the World Games were, not only for Jerred, but for her and Jerred's sister, Krista, who traveled Greece to cheer on Jerred and the rest of Team Canada. The softball team had an impressive cheering section in Greece, with over a dozen family members making the trip to cheer on their athletes.
Complementing Jerred's summer sport of Softball is Floor Hockey, a sport Jerred has been playing since the winter of 1997 / 98. Rose still recalls the first night her husband, Merlin, took Jerred to the Charlottetown Floor Hockey program. They didn't even have a helmet for Jerred, which they quickly realized was step number one! Jerred has since more then settled into Floor Hockey, having found a sport that he is not only passionate about, but also thrives at. Jerred has attended 6 National Games as a member of Team PEI Floor Hockey.
Jerred's National Games highlight comes from competing at the 2004 National Winter Games, in Floor Hockey, when the Games were hosted in PEI. Rose recalls how all of their family got to see Jerred play - he had his own cheering section, one that included players from the UPEI Men's Panthers Hockey Team. Jerred has worked as a volunteer with the Panther's team since 2004. Jerred sits beside the team's bench and supports the trainers and coaches during the games, getting water, towels, or whatever else is needed. When Jerred was playing in the Gold Medal game it was the Panthers' turn to cheer him on, and they showed up to support one of their own. Rose still recalls the excitement of Joel Ward, former Panther and NHL Player, being there when Jerred was presented with his Gold medal.
Rose credits Special Olympics as being one of the greatest things to have come into Jerred's life. He has formed a peer group, and made some lifelong friends. Through Special Olympics Jerred has also developed some great relationships with his coaches. His floor hockey coaches have become mentors to Jerred. He listens to what they have to say, and ensure he follows through. Jerred respects the feedback from his coaches, and knows the importance of communication.
Looking ahead to the Special Olympics Canada Winter Games 2020 Jerred is excited to once again take on the best in the country. He talks about how he and his Floor Hockey teammates have been practicing since the Summer. He says that when they get to the gym in Thunder Bay they will think back to their practices in PEI, and they will bring the heat to Thunder Bay!
SUPPORT TEAM PEI 2020
If you would like to support Jerred and his Team PEI 2020 teammates please consider joining the Team PEI 2020 Booster Club.