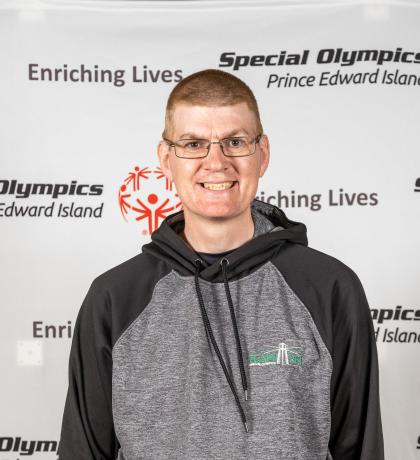 Geoffrey Bridges, Charlottetown, has been a Special Olympics PEI athlete for 11 years. Geoff first joined Special Olympics because he had friends in the program, and they told him it was fun. Geoff decided to give Floor Hockey a try. After scoring a goal on his first night, he was hooked!
Geoff is a member of Team PEI 2020's Floor Hockey team, and will be competing at the Special Olympics Canada Winter Games 2020 in Thunder Bay, Ontario. The 2020 National Games will be Geoff's forth National Games. He also competed at both the 2012 and 2016 National Winter Games as a member of Team PEI Floor Hockey, and at the 2018 National Summer Games as a member of Team PEI Soccer. Geoff's favourite Special Olympics memory is from the 2012 National Games. He recalls scoring his first goal at those National Games.
Geoff is married to fellow Team PEI 2020 athlete, 5-Pin Bowler Rolanda Bridges. Geoff and Rolanda married in July of 2018. They are one of two married couples on Team PEI 2020, the other couple also being a Floor Hockey / 5-Pin Bowling duo - Tommy and Jennifer MacGuigan.
SUPPORT TEAM PEI 2020
If you would like to support Geoff and his Team PEI 2020 teammates please consider joining the Team PEI 2020 Booster Club.