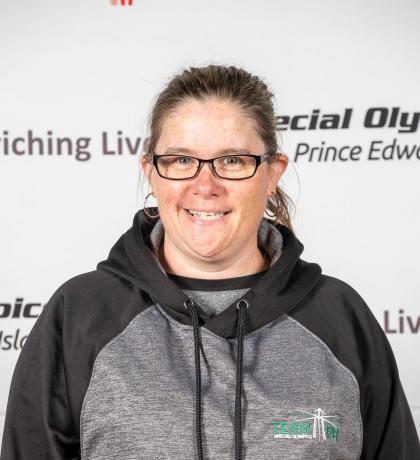 Erin Pippy, Charlottetown, is a member of Team PEI 2020's 5-Pin Bowling Team. The Special Olympics Canada Winter Games 2020 will be Erin's first National Games! When Erin received the news that she had been named to Team PEI 2020 she says she was both excited and surprised. Erin knows how competitive it is to earn a spot on Team PEI's 5-Pin Bowling Team. With so many bowling athletes, and typically only 5 athletes selected (this year 10 athletes are representing PEI, on 2 5-Pin Bowling teams), Erin knows how hard it is to make the Bowling team. 
Erin loves bowling! When asked why bowling is her favourite sport, Erin says she likes to be with her friends, and enjoys meeting new people. Some of Erin's closest friends participate in the Charlottetown 5-Pin Bowling program, and she feels fortunate that some of her best friends are also on the Team PEI 2020's 5-Pin Bowling Team. 
In addition to being named to Team PEI 2020, this has been a big year for Erin. Erin was named the 2018 -2019 PEI Mutual Female Athlete of the Year, an award which is presented annually to a Special Olympics PEI female athlete for the most outstanding athletic performance at a Provincial, National or International Competition. Erin was recognized for her hard work and commitment to improving her game. Erin has always been a bridesmaid when it comes to making Team PEI for a sport and has never been able to make it even though she comes very close. This past year she set her goal of making Team PEI for bowling. All year she worked hard at her weekly bowling practice to be prepared for Bowling Provincials. At the 2019 Bowling Provincials Erin was unstoppable, having the highest scores in her career. Her  focus and preparation certainly paid off!  
Erin has also developed a close friendship with a member of the PEI Law Enforcement Torch Run for Special Olympics. Erin and Charlottetown City Police officer, Kristi MacKay have been friends for years, starting with their mothers' being friends. Kristi is one of Erin's biggest supporters, be it in bowling, or other Special Olympics endeavors, always there for a hug or high-five after an event or competition. Erin will have one more fan in the stands in Thunderbay as Kristi will be representing PEI in the LETR Final Leg in the lead-up to Games. 
Erin has been involved with Special Olympics for 13 years. In addition to bowling, Erin also participates in Bocce. Off the fields of play, Erin is quick to volunteer at fundraising events, especially during the Staples' Give a Toonie, Share a Dream BBQ each May. 
Support Team PEI 2020
If you would like to support Erin and her Team PEI 2020 teammates please consider joining the Team PEI 2020 Booster Club. 
When Giving Gives Back!
During Special Olympics PEI's End of Year giving appeal, until December 20, 2019, when you donate $100 or more to the Team PEI Booster Club you will receive a free copy of our PEI Mutual's A Special Island Christmas CD. Support Team PEI 2020, and receive your free gift - Donate Today.