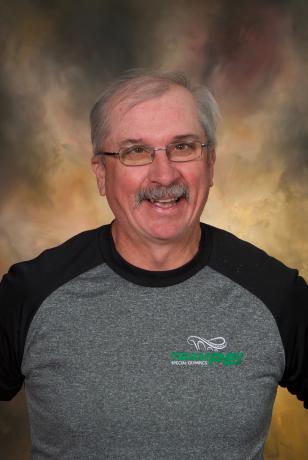 Tommy MacGuigan, Charlottetown, has been involved with Special Olympics for over 35 years. In fact, Tommy has been an athlete since before Special Olympics PEI became its own incorporated, charitable organization. To this end, Tommy holds the record as the longest serving athlete in the province, and is the only currently active athlete to have been involved when Special Olympics PEI began. 
Tommy's mother was the one who got him involved, saying that participating in sport would be good for him. Tommy started off playing Floor Hockey, a sport he still plays today. Tommy recalls participating in his first Floor Hockey tournament, back in his early 20s. It was an invitational tournament held at Birchwood school. The tournament saw his Charlottetown team play against a team from Summerside, and two teams from New Brunswick. 
Tommy has attended 17 National Games - 2 for Track and Field, 5 for Softball, and 10 for Floor Hockey. A true competitor, Tommy attended his first National Games in 1984, in Toronto, competing in Floor Hockey. This longevity with the sport of Floor Hockey helps to cement the sport as his favourite. Special Olympics started with Floor Hockey for Tommy, which also adds to his love for the sport. 
Over the years there have been many highlights for Tommy. Competing at the 2004 National Winter Games, in front of a hometown crowd in Charlottetown, stands out as a highlight. Tommy recalls playing in the Gold medal game at home, all while White Juan raged outside. Other highlights for Tommy include being selected to represent Canada at the 2011 World Summer Game in Greece (Softball) and winning a Gold medal at the 2016 National Winter Games in Cornerbrook (Floor Hockey). 
When asked why others should get involved with Special Olympics, Tommy says that once you get into the grove of participating, you have the opportunity to experience competition and you develop new friendships. 
Tommy is currently training to represent PEI at the 2018 National Summer Games as a member of Team PEI Softball. Tommy and his teammates are training indoors and participating in the Synergy Fitness Performance program.