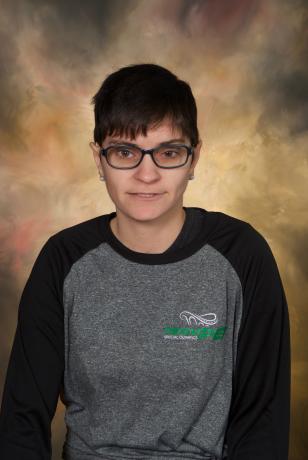 Teri Cudmore, Charlottetown, has been involved with Special Olympics for almost 10 years. Teri first started participating in Special Olympics programs to meet new people and to try new sports. Teri participates in Track and Field, Floor Hockey, Basketball and Bocce. Her favourite sport is Floor Hockey. 
Teri will be representing PEI at the 2018 National Summer Games in the sport of Track and Field. This will be Teri's second National Games, having also competed at the 2014 National Summer Games, also in Track and Field. In preparation for Summer Games, Teri is training indoors with her coach at UPEI. Furthermore, Teri is also participating in Floor Hockey and the Synergy Performance Program. New to Synergy, Teri enjoys the fitness program, especially trying new exercises. 
When asked what her favourite part of Special Olympics is, Teri says she enjoys meeting new people and having fun. All of her favourite memories involve having fun with friends while away for competitions.