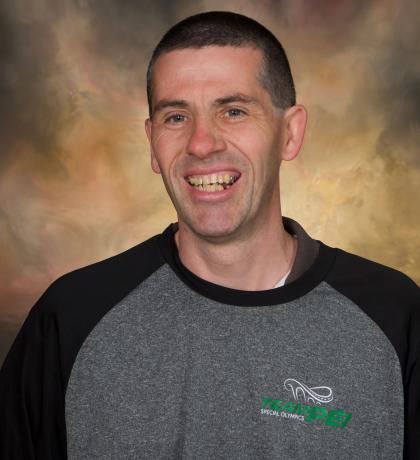 Shawn Mitchell, Charlottetown, has been a special Olympics PEI athlete for over 15 years. Shawn participates in a number of different sports, keeping busy most days of the week. Shawn participates in Soccer, Community Sport, CrossFit performance program and Floor Hockey. Shawn is currently training to represent PEI at the 2018 National Summer Games as a member of Team PEI Soccer.
In addition to the multitude of sports Shawn participates in, Shawn also gets a workout through their job at Sobeys where he pushes carts. Shawn has lots of good friends through his workplace. His coworkers are no strangers to the Special Olympics movement, having formed a Sobeys team to take on Shawn's Floor Hockey team a number of times over the years. Shawn's coworkers are also supportive of the competitive opportunities available to Shawn through Special Olympics. Sobeys is a longtime support of the Draft an Athlete fundraising campaign, and have Drafted Shawn for numerous Games.
At the 2018 National Summer Games, Shawn is most looking forward to doing his best, and trying to win a medal.