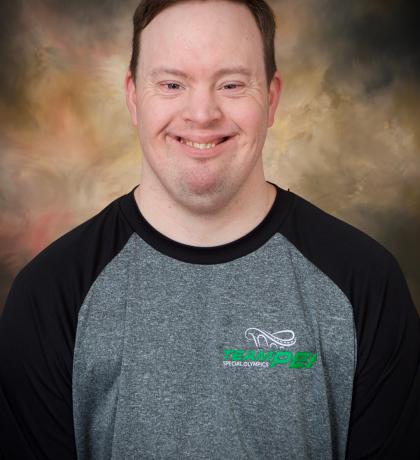 Phillip Chugg, Charlottetown, has been an athlete with Special Olympics PEI for over 22 years. Over the years, Phillip has participated in a number of different sports, including Floor Hockey, Track & Field, Curling and Golf. Phillip is currently training to represent PEI at the 2018 National Summer Games as the Island's only Golf athlete.
Phillip joined Special Olympics when he was 14 years old. Phillip has a love of sport, and is naturally very athletic. Phillip is always on the move, and enjoys that Special Olympics programs keep him moving and active, often a couple of days a week. He also enjoys the social component of sport; Phillip has made many good friends through his involvement.
Phillips also enjoys the competitive side of sport. Over the years Phillips has had many competitive opportunities with Special Olympics, in a variety of sports. Curling, where Phillip plays skip, is by far the sport in which he has seen the most success. Phillip represented PEI at the 2008, 2012, and 2016 National Winter Games in the sport of Curling. In 2012, following a fantastic showing at the 2012 National Games, Phillip's rink was named Special Olympics Canada's Team of the Year.
Phillip is currently training for the 2018 National Summer Games. In order to ensure he is ready for the Games, Phillip has been golfing at the simulator all winter, and practicing putting at home. Once the weather warms up, Phillip will be out at this home course, Fox Meadows.