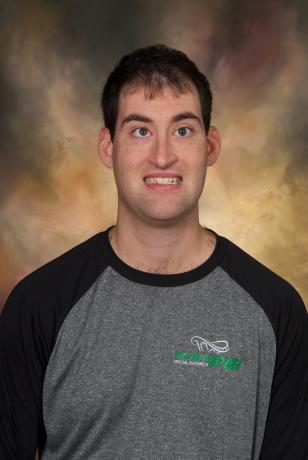 Jonathan Watts, York, has been involved with Special Olympics for almost 10 years. Jonathan started out by participating in Charlottetown's Community Sport program following a recommendation from one of the Educational Assistants at his school. Jonathan quickly identified 5-Pin Bowling as his sport of choice. Once he started bowling competitively there was no looking back. 
Jonathan was selected to attend the 2010 National Summer Games in London, Ontario. He won a bronze medal in the team event, bowling a 234 high during the week of competition. 2010 was a big year for Jonathan. Not only did he attend National Games, his first time being away from home over night, he also graduated high school and began working at Tremploy (where he still works in the mailroom and woodworking). 
Jonathan's mother, Leah, says that Special Olympics has been good for her son. He has become more confident and more outgoing. Jonathan really enjoys his time at Special Olympics programs. He has a great relationship with his bowling coaches - Rickey and Dave. Jonathan and Rickey, the Head Coach for Team PEI 5-Pin Bowling, have a great comradery, bonding over a shared interest in hockey.  Jonathan also really enjoys participating in his weekly competitive bowling program with Coach Dave. 
Jonathan will be representing PEI once again at the upcoming Bowling Championships. To prepare for the Championships Jonathan is bowling twice a week and attending the Synergy performance program. Jonathan's top bowling score so far this years has been 267. Training is going really well, with all of the members of the 5-Pin team getting along really well, and the competition between the team members is friendly. 
When asked what his favourite part of Special Olympics is, Jonathan answered bowling. He loves attending the local 5-Pin Bowling Provincials each May. A highlight for Jonathan was winning the Steven Thompson Memorial Award in 2015 for Top Male Bowler in the Confederation Division. 
When Jonathan isn't bowling he enjoys attending Islanders hockey games with his brother in law, Jeremy, watching sports, including hockey, on television, or hanging out with his 2 year old nephew, Brantley Jonathan. Jonathan is very social and easy going.