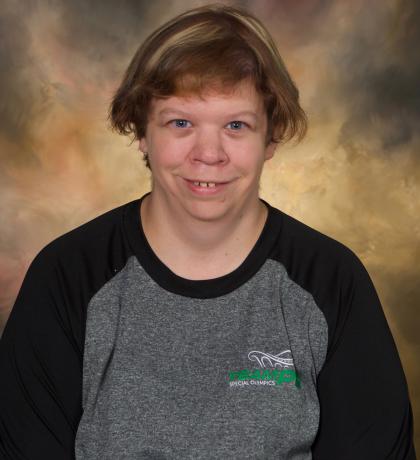 Jenna Smith, Tyne Valley, has been a Special Olympics PEI athlete for 7 years. While Jenna started as a Golfer, 10-Pin Bowling is now her sport of choice. Jenna has seen great success in the sport of 10-Pin Bowling, success she hopes to see continued at the 2018 National Bowling Championships.
Jenna has represented PEI at 2 National Games - 2010 in London, Ontario and 2014 in Vancouver, British Columbia. Following the 2014 National Summer Games, Jenna was named to Team Canada and competed at the 2015 World Summer Games in Los Angeles, USA. Jenna had a phenomenal experience at World Games, both on the bowling lanes and off. Jenna describes a fun experiences competing on the world stage, and touring around in city in her down time. On the lanes Jenna saw great success, winning 3 Gold medals.
Jenna's favourite parts of being involved with Special Olympics are having the opportunity to travel to competitions and meeting different people. When asked why people should join Special Olympics, Jenna encourages people to get involved- just do it she says! She says the growth in self esteem is a major benefit.
The community of Tyne Valley is a major supporter of Jenna. The members of the community help Jenna keep up with her practices, and ensure she has everything she needs. When Jenna returned from World Games, with 3 Gold medals, the community of Tyne Valley threw a parade in her honour.
Jenna is currently training to represent PEI at the 2018 Special Olympics Canada Bowling Championship, the 10-Pin portion of which is being partly held in Tyne Valley. Jenna is excited for athletes from across the country to see her home town.