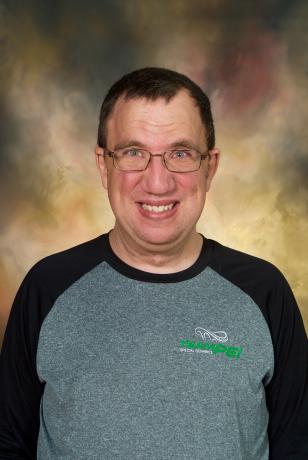 Aaron Myers, Charlottetown, has been a Special Olympics PEI athlete for 18 years. Aaron began participating in Special Olympics because he likes playing sports.
A true multi-sport athlete, Aaron first sport was Softball. Arron is currently training to represent PEI at the 2018 National Summer Games in Softball. His training includes in-door softball training, attending the Synergy fitness performance programs, and participating in the weekly Floor Hockey programs. Aaron says that he is working hard to try and bring home the Gold medal for PEI. 
Aaron is no stranger to competing on the Softball field at the National Games level, having also represented PEI at the 2006, 2010 and 2014 Summer Games. Following a Gold medal performance at the 2010 National Summer Games in London, Ontario, Aaron was named to Team Canada, and competed at the 2011 World Summer Games in Athens, Greece.
In additional to softball, Aaron also participates in Basketball, Bocce, 5-Pin Bowling and Floor Hockey. When asked, Aaron said that Floor Hockey is his favourite sport, because he likes playing with his friends. In fact, many of Aaron's favourite memories of his year's with Special Olympics involve making new friends.