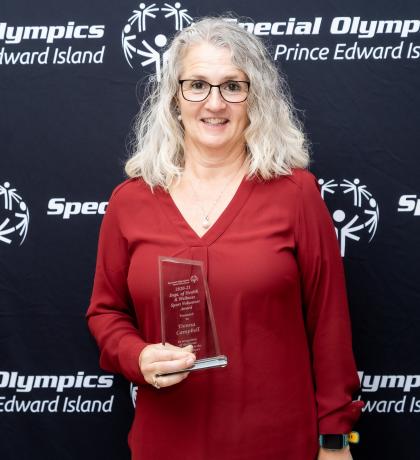 Donna Campbell has been a volunteer with Special Olympics PEI for 17 years. In recognition of Donna's significant contributions to the Special Olympics movement, Donna was recently awarded the 2020-2021 Department of Health and Wellness Sport Volunteer of Year Award.
During her time with Special Olympics PEI Donna has been volunteering in several important roles. In addition to holding the position of Secretary on Special Olympics PEI's Board of Directors, Donna has been both a coach and volunteer with various Special Olympics program in West Prince.
Donna is currently fulfilling the Training Coach role for CJ Synders-Couchman, who is preparing for the 2022 Special Olympics World Winter Games in Kazan, Russia, which will occur in Winter 2023 due to COVID-19 delays. This marks Donna's third consecutive cycle in the Training Coach role for athletes in West Prince. Donna is a very organized person who delivers programs that are athlete centered. She is always willing to learn or collaborate more with other experts and is not shy to try something new. Her commitment to ensuring quality training opportunities for athletes supports them and their families to succeed at major events. This year has been unique as the Games will extend two extra seasons to ensure the safety of everyone. Islanders and those who connect with the Team Canada training squad recognize the commitment it takes for all team member.
The Department of Health and Wellness Sport Volunteer of the Year award is presented annually to a Special Olympics PEI sport volunteer who through their commitment to enriching the lives of Islanders with an intellectual disability through sport, has made a difference in their community.
Join the Cheer Squad
Show your support for Special Olympics PEI by joining our Cheer Squad. Buying an O Christmas Tree bulb this holiday season will show your support for our athletes and volunteer - volunteers like Donna. Buy your bulb today: Buy a Bulb