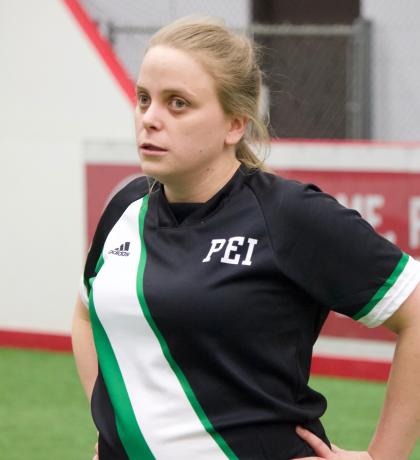 Sarah MacDonald became involved with Special Olympics for the same reason as many of our athletes - because her friends were involved. Back in 2009 Sarah began participating in the Special Olympics swimming program in Montague. Before the pandemic, 12 years after first joining Special Olympics, Sarah could still be found in the pool at the weekly Montague swim program, swimming with her friends.
Having a strong group of friends is something we all value as important. A good group of friends makes you feel included. A good group of friends invites you to participate in activities, like swimming. And a good group of friends can help you, virtually, get through the challenges that come from a global pandemic. For our athletes, Islanders with an intellectual disability, finding a good group of friends is especially important. For many, it is through Special Olympics that lifelong friendships are made.
In addition to making lifelong friends, Sarah has had some really exciting opportunities through Special Olympics to travel and compete. In addition to being a strong swimmer, Sarah is a very accomplished soccer player Sarah has represented PEI at 2 Special Olympics National Summer Games in the sport of Soccer, first in 2014 in Vancouver, then again in 2018 in Antigonish. Sarah's favourite Special Olympics memory comes from a unique competition she was able to participate in with her soccer teammates when they were invited to compete at the 2019 Special Olympics Yukon Indoor Soccer Invitational. Sarah felt at home during the tournament as she has lots of family friends in the Yukon, many of whom were able to watch her compete.
The last year has been a challenging time for our athletes. When the pandemic first began daily life changed for Sarah. Harbourview Training Center, where Sarah works, closed. During the first three months of the pandemic, when PEI was in initial lockdown, Sarah, like most Islanders stayed home. Special Olympics programs were paused, which meant that Sarah was unable to attend the weekly programs she so looks forward to each week. During the lockdown Sarah was able to spend a lot of time with her family. Card games were a popular pass time, as were online workouts.
In the fall, when the Montague swim program was announced to be starting up again, Sarah was really excited. She says it is good to be back in the pool, and that she missed hanging out with her friends. In addition to having weekly swim program starting back up again, Special Olympics PEI recently hosted a Swimming Fun Day as part of our Return to Competition plan. Sarah had the opportunity to take part in a swimming event that brought swimmers from 2 swim programs together for an afternoon of skill development.
Support Athletes like Sarah
Your support helps athletes like Sarah have the opportunity to not only meet new people, but to also make lifelong friends. If you are in a position to support Special Olympics PEI at this time, we invite you to consider the following ways you can support the 30th Anniversary of the Enriching Lives Gala:
PURCHASE A GALA TABLE OF 6
Tables of 6 are available for purchase for $650. Tables can either be corporate or can be bought by an individual to be filled at their discretion. Please note, due to COVID-19 restrictions, individual tickets sales are not available at this time. To purchase your Gala Table of 6 please contact Charity Sheehan, either via email at csheehan@sopei.com or by calling 902-368-8919.
DONATE AN ITEM TO OUR ONLINE AUCTION
This year's Silent Auction will again be hosted online. Online viewing and bidding on all Silent Auction items will begin June 8th, 2 weeks prior to the Gala, on our Enriching Lives Auction custom website. To donate an Auction Item, please contact Charity Sheehan, either via email at csheehan@sopei.com or by calling 902-368-8919. You can also make your donation online via our Auction Donation Form.