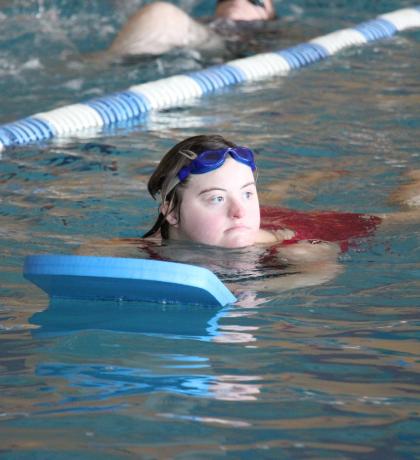 Jessie Shanahan has been a multi sport athlete with Special Olympics PEI for over 20 years. When the pandemic began, and Special Olympics programs were paused, Jessie's life began to look very different. Jessie had a hard time not seeing her friends, and her routine was gone. She was not able able to attend weekly in-person programs with her friends, and the swim meets she so looked forward to were now postponed indefinitely. When Special Olympics PEI was able to Return to Play, Jessie was thrilled to be able to get back to in-person programs!
Jessie's mother, Laurie McNally, first signed Jessie up for Special Olympics' youth programs when Jessie was 4 years old. Laurie wanted to get Jessie involved in a program with her peers. Laurie was also looking to meet parents of other child with an intellectual disability. While Jessie and the other children were taking part in fun filled activities, the parents had the opportunity to form their own peer group. Laurie still recalls Jessie's first swim meet fondly - she cried almost all day!
Jessie participates in a wide range of Special Olympics sports programs, including swimming, community sport soccer, CrossFit 782 performance program, rhythmic gymnastics, curling and track and field. In the fall, when Special Olympics PEI was able to offer more in-person programs in phase 2 of Return to Play, Jessie was excited to get back. Swimming was the first program to get re-started, in-person, for Jessie. A long time favourite sport of Jessie's, she was happy to be back in the pool with her friends. While Jessie is going to have to wait a bit longer to get back to swim meets, most of which take place off Island to help ensure quality competition for our athletes, for now, Jessie is content at being back in the pool at weekly program with her friends.
Support Athletes like Jessie
Your support helps athletes like Jessie have the opportunity to continue doing what they love - participating in weekly sports programs. If you are in a position to support Special Olympics PEI at this time, we invite you to consider the following ways you can support the 30th Anniversary of the Enriching Lives Gala:
PURCHASE A GALA TABLE OF 6
Tables of 6 are available for purchase for $650. Tables can either be corporate or can be bought by an individual to be filled at their discretion. Please note, due to COVID-19 restrictions, individual tickets sales are not available at this time. To purchase your Gala Table of 6 please contact Charity Sheehan, either via email at csheehan@sopei.com or by calling 902-368-8919.
DONATE AN ITEM TO OUR ONLINE AUCTION
This year's Silent Auction will again be hosted online. Online viewing and bidding on all Silent Auction items will begin June 8th, 2 weeks prior to the Gala, on our Enriching Lives Auction custom website. To donate an Auction Item, please contact Charity Sheehan, either via email at csheehan@sopei.com or by calling 902-368-8919. You can also make your donation online via our Auction Donation Form.