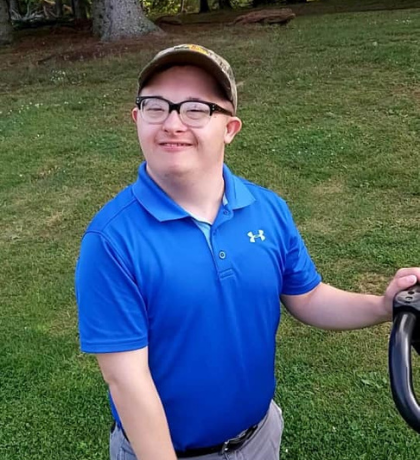 Golf has always been a family activity for the Matheson family. Although Colton did not officially start golfing with Special Olympics until the age of 12, he has been out on the links with his father, Jamie, from a very young age. This past summer, Colton set a goal for himself, to be a member of a future Team PEI, and compete at a Special Olympics National Games.
Colton first started participating in Special Olympics when he was 12 years old. Living in Montague, the Montague Community Sport program was a natural first fit as an introductory program for Colton. While the recreational / non-competitive nature of the program was a good fit for Colton, the size difference between Colton and the rest of the athletes was challenging. Colton's short stature, especially as a pre-teen, meant that he was playing basketball against adult athletes who were literally head and shoulders taller then he was. Jamie, knowing that golf was a sport Special Olympics offered, thought that a change of program might be a better fit for Colton. There was no golf program in Montague at the time, so Jamie did what a lot of Special Olympics parents do in this situation, he started a program, and took on the role of head coach!
March 2020 brought big changes to Colton's life. The pandemic meant that Kingswood Training Centre, a skills training, day programming, and supported employment service, where Colton works in the woodshop building tables, chairs, and other furniture, closed. With Kingswood closed, Colton, like most of us, was spending a lot of time at home. Being at home full time during the lockdown meant that the Matheson family had time to get work done on some family projects, including finishing building an apartment for Colton in the basement.
Now a days Colton keeps himself busy. He is back full time at Kingswood, and was really excited when Special Olympics in-person programs started up again. Colton missed weekly programs, and seeing his friends. This past summer, Colton took advantage of every opportunity to get outside and out on the golf course. He has been working really hard on his golf game, and is really enjoying it. Colton is working hard towards his new goal of representing PEI at a Special Olympics National Games. While there is no clear plan for when the next National Games will take place, locally Special Olympics PEI is very fortunate to have entered a Return to Competition stage. With Colton continuing to practice his swing, one thing is for sure, when the opportunity to compete presents itself, Colton will be ready.
Support Athletes like Colton
Your support helps athletes like Colton as they pursue their competitive goals through Special Olympics. If you are in a position to support Special Olympics PEI at this time, we invite you to consider the following ways you can support the 30th Anniversary of the Enriching Lives Gala:
PURCHASE A GALA TABLE OF 6
Tables of 6 are available for purchase for $650. Tables can either be corporate or can be bought by an individual to be filled at their discretion. Please note, due to COVID-19 restrictions, individual tickets sales are not available at this time. To purchase your Gala Table of 6 please contact Charity Sheehan, either via email at csheehan@sopei.com or by calling 902-368-8919.
DONATE AN ITEM TO OUR ONLINE AUCTION
This year's Silent Auction will again be hosted online. Online viewing and bidding on all Silent Auction items will begin June 8th, 2 weeks prior to the Gala, on our Enriching Lives Auction custom website. To donate an Auction Item, please contact Charity Sheehan, either via email at csheehan@sopei.com or by calling 902-368-8919. You can also make your donation online via our Auction Donation Form.