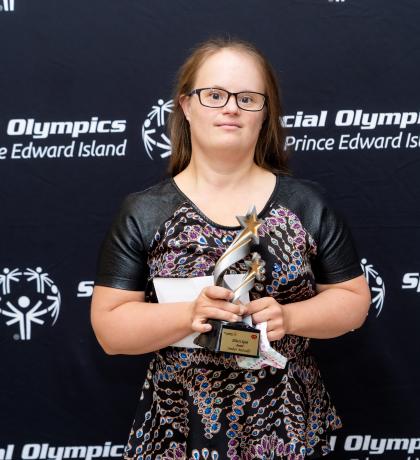 Amber has been involved with Special Olympics for 22 years. Amber rarely misses a practice and always looks forward to going and participating. She is always willing to give anything a try and, given the opportunity, she will succeed. Amber is happy to see other athletes succeed and can be heard cheering from the sidelines when not playing.
This past year she wrote a promise to herself to work hard to come back after some medical setbacks so she could return to play as soon as possible. Amber has had three significant medical challenges she has overcome in the past year. Each one could have sidelined her for longer, but showing great spirit, she worked hard after each one to get back to her sports. She even attended practices, even though she was not participating, to cheer from the sidelines. As soon as she was given the go-ahead, she got back in the pool and the gym. As she recovered, she took on the challenge of becoming a Wellness Champion and is so proud of her achievement.
The ADL Spirt Award is presented annually to a Special Olympics PEI athlete who brings out the best in theirself, fellow athletes and coaches through commitment, determination and humour.
Join the Cheer Squad
Show your support for Special Olympics PEI by joining our Cheer Squad. Buying an O Christmas Tree bulb this holiday season will show your support for our athletes. Buy your bulb today: Buy a Bulb