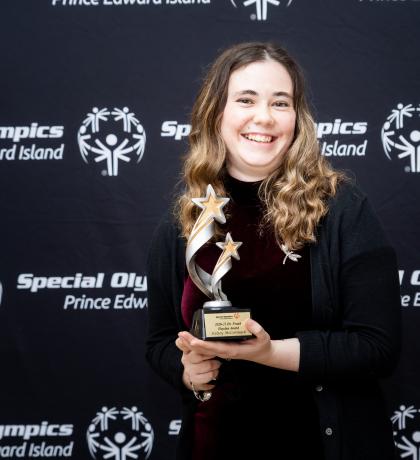 Kelsey McCormack is a grassroots athlete who participates in the Montague Wellness Champion, Swimming, and Golf programs. She is a joy to have at programs, making everyone feel appreciated by her great smile and thankful heart. She encourages those around her and truly shows the spirit of Special Olympics. She has participated for about seven years and looks to be involved for many years to come. Through this commitment and dedication, she was recognized by her coaches and peers as deserving of the Dr. Frank Hayden Award.
This award is named in honor of Dr. Frank Hayden, who in the early sixties began searching for ways to establish a national sport program for individuals with an intellectual disability. His research eventually led to the development of the Special Olympics movement.
This award is presented annually to a Special Olympics PEI athlete who has shown commitment to training and the determination to succeed at the grass-roots level.
Join the Cheer Squad
Show your support for Special Olympics PEI by joining our Cheer Squad. Buying an O Christmas Tree bulb this holiday season will show your support for our athletes. Buy your bulb today: Buy a Bulb