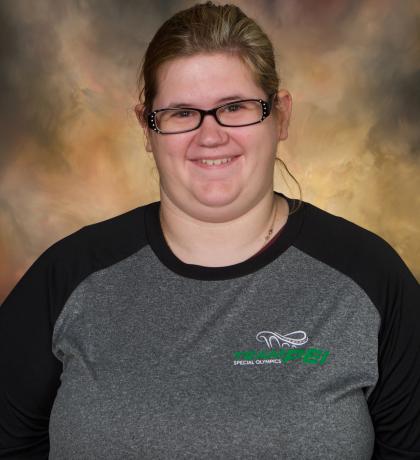 Alyssa Chapman, Murray Harbour, has been a Special Olympics athlete for 15 years. Alyssa has participated in a variety of sports over the years, including Figure Skating, Swimming, Soccer, Rhythmic Gymnastics, Basketball and Community Sport.
The 2018 National Summer Games will be Alyssa's 7th National Games, and her 2nd time on the Team PEI Soccer team. Additionally, Alyssa has competed in 6 Canada Games in Swimming and Figure Skating. Furthermore, Alyssa has represented Canada twice at the World Games level, both times in the sport of Figure Skating. Alyssa was first a member of Team Canada at the 2013 Special Olympics World Games in South Korea, and most recently at the 2017 Special Olympics World Games in Austria.
Alyssa is a proud member of the Athlete Leadership team in PEI. Alyssa has taken on many leadership roles within her community and within Special Olympics. Her favorite ALPs moment was when she gave a keynote speech at the 2014 Special Olympics Festival. In her community, Alyssa is engaged in her local figure skating club by mentoring younger figure skating athletes.