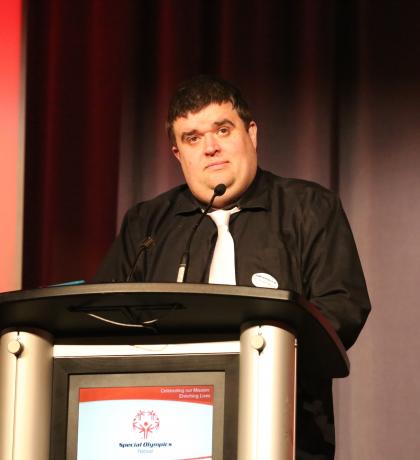 Matt Judson, Charlottetown, has been a Special Olympics athlete for 17 years. During this time Matt has participated in a number of different sports including Bocce, 5-Pin Bowling, Community Sport, Softball, and Floor Hockey.
Matt attended the 2012 Special Olympics National Winter Games in St. Albert as a member of the Floor Hockey team. Most recently, Matt has participated in the Charlottetown Bocce program since its beginning. Matt has competed at the 2016 and 2017 Provincial Games in Bocce.
Matt has been involved in leadership roles within Special Olympics for many years. He will be concluding this second term as the Athlete Representative on the Special Olympics PEI Board of Directors this Fall, a positive he has held for the last four years.
Matt also takes leadership roles in weekly program to help others learn and develop new sport and social skills.