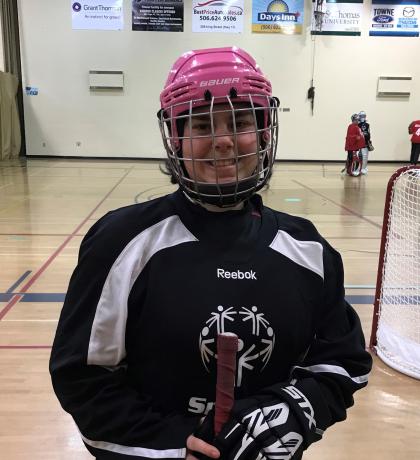 Lisa Bernard joined Special Olympics in June of 2011 after being encouraged by friends of hers to give it a try. Lisa wanted to meet her people, so she registered as an athlete. 8 years later, and Lisa is still actively involved, keeping busy with Special Olympics programs most days of the week!
When Lisa first signed up as a athlete she started off participating in the Charlottetown Community Sport program. Lisa then began participating in Competitive programs, including Floor Hockey, Softball, and 5-Pin Bowling. Her favourite sport is Floor Hockey, partly because of the great experience she had competing at the 2016 National Winter Games in Cornerbrook, Newfoundland.  Lisa also loves the sport because of the great friends she has made along the way, and her awesome coaches. Lisa recalls having one of her currently coaches as an Educational Assistant back at Birchwood Intermediate School. 
Lisa is no stranger to competing as a member of Team PEI at National Games. In addition to competing at the 2016 National Winter Games as a member of Team PEI Floor Hockey, Lisa was a member of Team PEI Softball, competing at both the 2014  and 2018 National Summer Games in Vancouver, BC and Antigonish, NS respectively.  Moving forward, Lisa will also be competing at the 2020 National Winter Games in Thunder Bay, ON.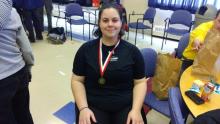 Being healthy is very important to Lisa. She is focused on healthy eating and exercise in an effort to stay healthy, and to achieve a healthy weight. She also participates in Performance Programs, both Synergy and CrossFit 782. Her healthy lifestyle is encouraged by the staff at QCRS. Lisa is very proud of her results to date - Lisa has lost over 50 pounds so far!
Lisa works doing maintenance at Queens County Residential Services, a positive she has held since 2010. Her job includes painting, cutting grass, snow removal and even a bit of carpentry.