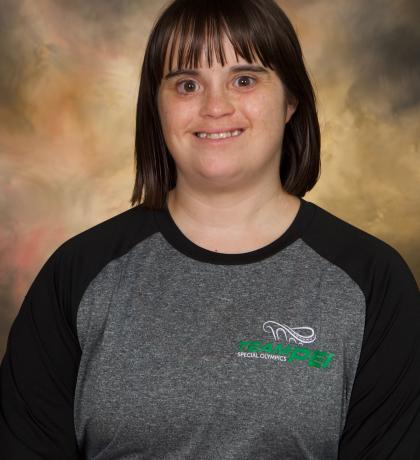 Janet Charchuk, Alberton, has been involved with Special Olympics for 19 years. Janet is an avid participant in local Bowling, Bocce, Snowshoeing, Swimming and Golf programs.  
Janet has represented PEI at 2 National Games, competing in Swimming and Snowshoe. Additionally, Janet made history in 2001 when she competed in swimming at the first Canada Games in which Special Olympics was included. She went on to represent PEI again at the Canada Games in 2005. Additionally, following a strong showing at the 2016 Special Olympics National Winter Games, Janet was named to Team PEI, and competed at the 2017 World Winter Games in Austria.
Janet is an active member of Special Olympics PEI's Athlete Leadership (ALPs) program. Her favorite ALPs moment is hosting Special Olympics PEI's Annual Awards with Corey Tremere from Ocean 100 for the past 10 years. One of Janet's goals for the Athlete Leadership program is to encourage her fellow athletes to get involved and to have a voice. 
Janet's message to potential Special Olympics athletes is that people should be involved because it is a good way to be involved, to be active and to have a healthy lifestyle. 
Janet is also an active member of her community. She has been involved with Allied Youth and 4-H. Furthermore, Janet had been engaged with the Canadian Down Syndrome Society (CDSS), and is very involved with advocacy. Janet gives talks at Island schools and community groups about the importance of inclusion. Janet has also had the opportunity to travel all over Canada, to Washington DC, New York City (for World Down Syndrome Day at the United Nations) and Trinidad and Tobago. 
Janet has been named a member of Team PEI 2018 and will compete at the 2018 National Summer Games in Antigonish in the sport of bocce. To get ready for the Games Janet is training hard. Janet is bowling, going to the gym for cardio and weight training, doing yoga, swimming and playing bocce on an indoor turf. If you want to help support Janet please consider drafting Janet through our Team PEI Draft an Athlete fundraising campaign.