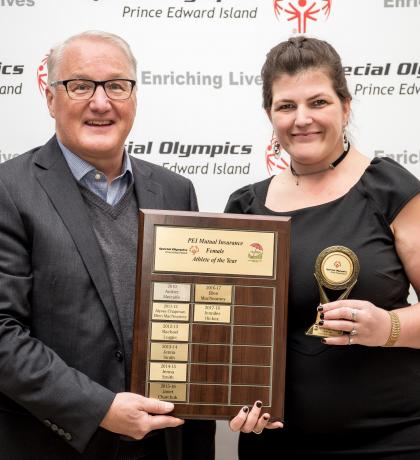 Jennifer Hickox joined Special Olympics 12 years ago when she moved into Charlottetown. She started participating in Special Olympics programs because she wanted to meet her people, join a team, and do something meaningful with her time. Jennifer started off participating in 5-Pin Bowling, and now participates in Bocce, Floor Hockey and Soccer as well.
Jennifer represented PEI at the 2018 National Summer Games in Antigonish in the sport of Bocce. The Games had a nail biting conclusion for Jennifer as she found herself up against a Team PEI teammate in the Gold Medal game. She was a bit taken aback to be playing against a teammate, and friend, in such a big game, but also happy because she knew her opponent, and knew she would be a good competitor.  Jennifer came out on top, in what was a very close game, to earn the top stop on the podium.  Jennifer recalls being very emotional during the medal presentation, with tears of happiness following months of hard work. She credits great coaching with contributing to her success.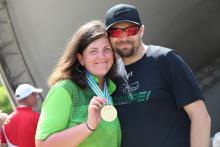 Jennifer was named Special Olympics PEI's PEI Mutual Female Athlete of the Year for 2017-2018. Jennifer says that it was amazing to win, and that she was very surprised to hear her name called as the two other finalists were athletes she knows. She remembers being in shock, asking herself "did they say me!" At the Annual Awards cheering her on were her parents and aunt and uncle.
The Special Olympics New Brunswick Winter Provincials are Jennifer's next adventure. Jennifer will be competing in her first Winter Games, in the sport of Floor Hockey.  She is looking forward to her first Floor Hockey competition. She loves being a part of the team.
Outside of Special Olympics Jennifer enjoys writing stories, especially mysteries. She is passionate about writing, and dreams of being an author. Jennifer works at Wendy's in Charlottetown, a job she loves. The owner make all the difference for her. Jennifer remembers when she was working at Tremploy, a vocational training / employment assistance center and she was first introduced to the owner of Wendy's / Tim Hortons. He would invite all of the clients from Tremploy out to this home for Christmas dinner.  This kindness is something Jennifer won't soon forget.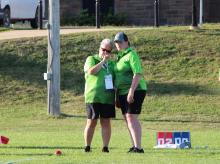 When Jennifer was asked what she wanted to get across to the readers in her In the Spotlight segment she replied that she believe Special Olympics coaches deserve more recognition for all that they do. Her coaches, and all of the volunteers who dedicate their time and talents to enriching the lives of Islanders with an intellectual disability, make all the different for Special Olympics athletes. Jennifer encourages her fellow athletes to take an extra minute to say thank you to the coaches and volunteers in their lives.
Learn more about Special Olympics PEI
Through Special Olympics hundreds of children, youth and adults with an intellectual disability have found acceptance, made lasting friendships and built confidence. In sport. And in life.
Now we're looking for more lives to change. Register Now.