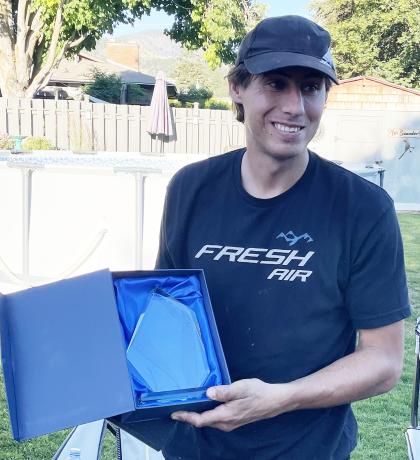 We are delighted to congratulate the winners of our six 2022 Special Olympics BC Awards!  
The annual awards celebrate athletes, volunteers, and coaches who exemplify SOBC's values. These incredible individuals are role models on and off the field, go above and beyond to support athlete development, and advocate for inclusion and equality. They make it possible for Special Olympics BC to offer life-changing programs to athletes all over the province.  
Our Athletic Achievement Award goes to an athlete who is role model to their teammates and community, and who works hard to develop their skills and to excel in their sport. This year, Francis Stanley was the recipient of this award.
Francis is an SOBC – Kelowna athlete who competes in high-level cross country skiing. Francis is a deeply passionate, gracious, and dedicated athlete. In his acceptance of this award, Francis expressed his gratitude, saying "I am happy to receive this award. Thank you!"
The Grassroots Coach Award celebrates a coach who works tirelessly to provide athletes of all abilities with opportunities to train, improve, and compete. This year's winner was Vince Astoria of SOBC – Abbotsford.
Vince has known that sport has the power to change lives since he was a kid, playing ball hockey with his friends and neighbours, some of whom had intellectual disabilities. Vince's love for sport and his athletes has kept him coming back season after season as an SOBC coach for 34 years. He noted the good memories he has with SOBC athletes in his acceptance remarks.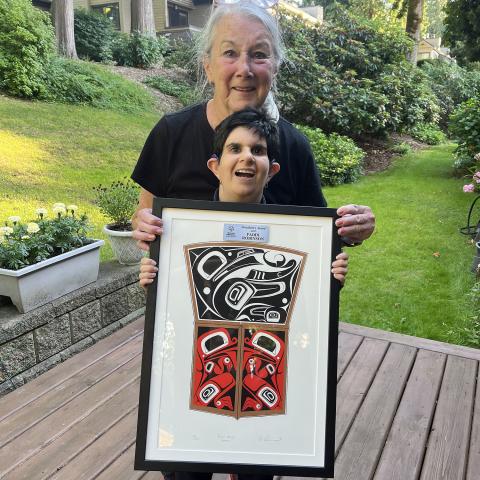 "They're all pretty special, I've learned a lot from them," he said.  
The Howard Carter Award is presented to a coach who provides exceptional training to athletes, and who prepares them to perform their best at competitions. Annabel Stanley was named the winner of the award this year.  
She is uncompromising in her commitment to SOBC athletes and is inspired by the connections they make through sport, saying "It's not just about the sport. It's about creating a community, creating friendships, and that is what is so important." She has exemplified this in her coaching by helping build a powerful team identity, while also supporting athletes throughout the pandemic.
The President's Award, which celebrates a non-coaching volunteer who is dedicated to planning, organizing, and operating sport programs, fundraisers, or competitions, was awarded to Paddi Robinson. 
Paddi is one of SOBC's critical volunteers and has been supporting athletes for 17 years. She is motivated to support SOBC athletes by "the joy we [see] in their faces when we're coaching them, or when we're encouraging them to do their best." She says without this joy "Special Olympics wouldn't be the same as it is." 
Chris Harrington is the 2022 Spirit of Sport Award recipient. This award is presented to a Special Olympics BC athlete who exemplifies the true meaning of sportsmanship.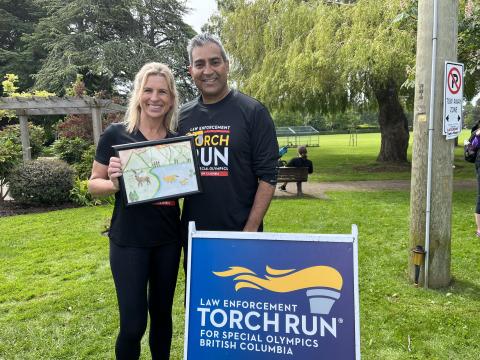 Chris is known on and off the fields of play for his supportive nature and advocacy for inclusion. He cited these principles in his acceptance of the award, saying "Special Olympics is a big part of my life and it's a family." 
The inaugural BC Law Enforcement Torch Run Award went to Cst. Lisa Bruschetta. This award recognizes a law enforcement member who has shown incredible commitment to the movement and is a true champion of Special Olympics and inclusion.  
Cst. Bruschetta embodies the principles of this award as a key organizer and leader in her community. She spoke in her acceptance about the connection she feels within the SOBC community.
"When I think about Special Olympics, I think about our family. We care about each other, we support each other, and we help each other. I am so lucky to have some of you as my closest friends," she said. 
A heartfelt thank you to everyone involved in this year's awards, and to the nominees and winners for their exceptional contributions to Special Olympics BC programs. We are honoured to be able to celebrate all of the hard work they put into our organization. 
Watch the 2022 SOBC Awards Ceremony hosted by legendary broadcaster and Special Olympics champion Bernie Pascall.