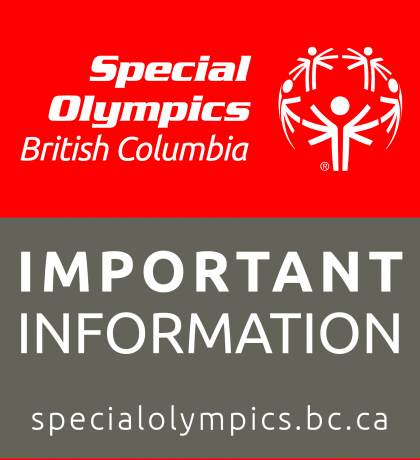 In line with new provincial health restrictions and in discussion with viaSport British Columbia, all in-person Special Olympics BC programs and training need to pause until further notice in January.
In the new year, SOBC will review the provincial health situation and advise everyone by January 7 if in-person programs can reopen starting January 9. If you have any specific considerations to raise for your program, please reach out to covid@specialolympics.bc.ca. 
For virtual programs, timelines can be decided by individual coaches in consultation with their Local.
The current provincial health restrictions are designed to pause gatherings of people, because gatherings create more risk of transmitting the virus. We have been advised to pause all in-person programs for the short term, to prevent any possibility of gatherings and help ensure province-wide safety and health for the long term.
"What we know is that gatherings of any kind are higher risk for all of us right now because we have seen the virus move quickly and easily between us. That is why, other than work or school, we need to stay small and stay local right now," Provincial Health Officer Dr. Bonnie Henry and Health Minister Adrian Dix said on December 3.
"Thank you to the many people throughout our province who are doing their part and helping to protect all of us. You may feel that you are just one, but remember that you are part of our B.C. COVID-19 team, and through your effort you will help us get through this pandemic."
We hope all the valued SOBC athletes, coaches, volunteers, and supporters will try to think of this as a slightly extended holiday break, and take advantage of our virtual ways to stay active and connected wherever possible.
We know and care deeply about how important in-person Special Olympics programs are to so many members of our community. We know Special Olympics is an essential – and sometimes only – source of healthy physical activity and social connections. We're committed to continuing to find ways we can safely operate as much as possible in future.
SOBC will continue monitoring the provincial requirements and providing updates. We're told there will be updated sport guidelines for safe operations coming out soon. We will be spending the next month responding to those and the emerging situation, as well as educating provincial sport and health leaders about the unique needs of our community. 
If you have any questions or feedback, please don't hesitate to email covid@specialolympics.bc.ca. 
Upcoming SOBC virtual opportunities include:
SOBC Healthy Holiday Challenge, full of daily at-home workouts and wellness activities – please click here
New Basic Sport Skills videos have been published for cross country skiing, floor hockey, powerlifting, and softball – please click here to find these and more at-home sport training tools for all sports
SOBC Virtual Year-End Dance Party – week of December 14 – please stay tuned for details
Upcoming SOBC Virtual Athlete Leadership courses – latest news
Upcoming virtual health programs and events – learn more
More resources for staying active, connected, positive, and informed – please click here
Provincial health restrictions now include:
No social gatherings of any size at your residence with anyone other than your household or core bubble. 
All in-person events and community-based gatherings are suspended.
Essential travel only.
Mask wearing in all indoor public and retail spaces, and in workplace common areas.
More support: