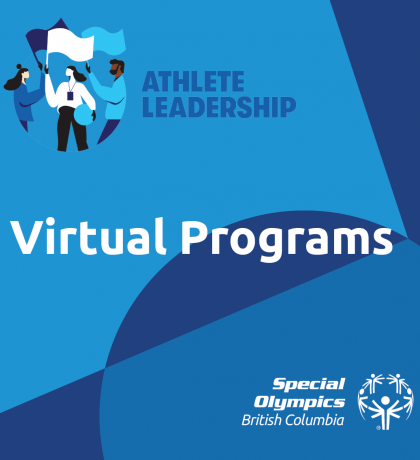 There are exciting things happening in the world of Special Olympics BC Athlete Leadership. We are revamping traditional SOBC Athlete Leadership courses to start offering them virtually! And planning is in process to launch the SOBC Athlete Input Council, which will bring together trained athlete leaders from around the province to share vital input on Special Olympics sport, programs, and planning. Read on to find out more!
Virtual Athlete Leadership programs
As part of our 2020-21 series of virtual Athlete Leadership programs, SOBC will offer the two-part Virtual Athlete Reporter Training on December 5 and 12 from 1 to 2:30 p.m. PT! (To complete the course, athletes must participate in both sessions.)
This course helps athletes build skills in storytelling, technology, and social media. It was created by SOBC – Victoria's PR Coordinator Andrea Boyes and Public Speaking Organizer Tess van Straaten, both coaches and volunteers who are also experienced journalists.
This course is a great fit for athletes who like to use their smartphones and understand social media!
This Athlete Reporter course will be delivered on Zoom by Boyes and SOBC Communications Manager Megan Pollock.
To register, please email alps@specialolympics.bc.ca by December 3 at noon. Please submit your name, Local, and what kind of mobile device you use (i.e. smartphone or tablet).
Stay tuned for more details to come about virtual Athlete Leadership courses in the new year! Amazing volunteer facilitators are working to offer Athlete Speakers Bureau 1 and 2 virtually. And SOBC Community Development Coordiator Melainie Hatt is updating the popular Safe Sport Anti-Bullying course, so watch for a new version to launch in the new year!
SOBC Athlete Input Council
A provincial athlete council is getting started! While SOBC has already had (and will continue to have) valued athlete leaders on the Board of Directors and Leadership Council, the new SOBC Athlete Input Council will have athlete representatives from each Region around the province. They will meet virtually and share the important perspectives of athletes from their Region on Special Olympics ideas and issues.
This council has been a long time in the making, and it is very exciting to have a group starting to meet. Right now, a first group of athlete leaders from around the province is discussing how the council should be formed, and creating Terms of Reference for member selection and participation.
We are really looking forward to seeing the development of this council, and sharing their news and insights! Please stay tuned for lots more to come!
About SOBC Athlete Leadership programs
Special Olympics Athlete Leadership programs offer training to help athletes succeed and inspire through leadership and speaking roles inside and outside the movement.
Through SOBC Athlete Leadership programs, athletes develop the skills and abilities to take on a range of leadership roles including public speaking, participating on Local Committees and Athlete Input Councils, and assisting as fundraising and program volunteers. These programs are proven to have a lasting benefit to participants by increasing confidence and self-esteem, and a lasting benefit to Special Olympics as these athlete leaders provide invaluable feedback and insights.
"Athlete Leadership is life changing. It can change the way you see things, and how you communicate with others, to have the courage to stand for others and be on the front lines. It creates leaders."
–Nyasha Derera, Chair, Special Olympics Global Athlete Congress
If you have questions or feedback about SOBC Athlete Leadership, please contact SOBC Community Development Coordinator Chelsea Rogers at 604-802-4226 or crogers@specialolympics.bc.ca.