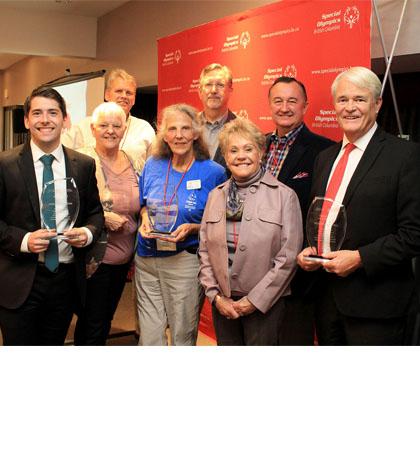 Celebrating 50 years of Special Olympics seemed like the right time to honour the largest class of inductees to the Special Olympics BC Hall of Fame.
This year, Special Olympics BC welcomed nine new members to the Hall of Fame. These deserving individuals and companies were inducted in a ceremony at the SOBC Leadership Summit on October 27.
The SOBC Hall of Fame recognizes significant, long-lasting contributions that individuals and groups have made to our movement.
Induction into the Hall of Fame celebrates the most outstanding achievements and contributions and is one of the highest honours bestowed within the Special Olympics BC organization.
The ceremony was hosted by Canadian broadcasting legend and longtime Special Olympics advocate Bernie Pascall. A Canadian Association of Broadcasters Hall of Fame member, Pascall covered the first International Special Olympics Games in Chicago in 1968.
Pascall said it was an honour to welcome the new inductees, who have shown the true spirit of Special Olympics and gone above and beyond in their dedication and support.
Athlete Inductee: Matthew Williams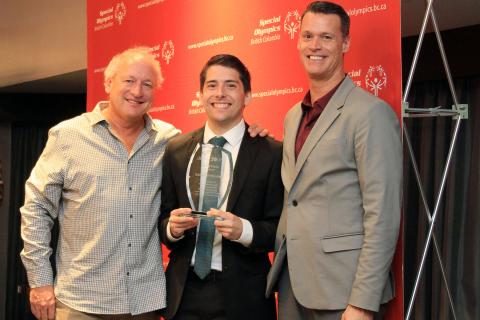 SOBC – Langley's Matthew Williams is an accomplished athlete and an inspiring advocate for people with intellectual disabilities around the world.
Williams has excelled in both summer and winter sports. He competed as a member of Special Olympics Team Canada in basketball at the 2015 Special Olympics World Summer Games, finishing fourth with his team. Williams also participated in speed skating at the 2017 Special Olympics World Winter Games, where he secured a silver medal with a personal-best time in the 1,000-metre.
On the national level, Williams was a four-time medalist at the 2016 Special Olympics Canada Winter Games in Corner Brook, Newfoundland, winning gold, two silvers, and bronze in speed skating. At the 2018 Special Olympics Canada Summer Games in Antigonish, Nova Scotia, Williams helped propel the BC Warriors team to silver in basketball.
Williams' dedication to sport matches his commitment to the Special Olympics movement.
In December of 2010, Williams was named a member of the Board of Directors for Special Olympics International (SOI), the top governing authority for the Special Olympics movement. The move came after he was elected Chair of the Special Olympics Global Athlete Congress in June 2010. Williams was also appointed a Sargent Shriver Global Messenger that same year. Williams continues to sit on the Board of Directors for SOI and serves as the Chair of the Global Athlete Congress. 
In addition to his work with SOI, Williams continues to play an essential role in his home province of British Columbia. He currently sits on Special Olympics BC's Leadership Council, which serves as the link between the community and regional programs and the Board of Directors of Special Olympics BC. This group plays an important role in helping chart the course of SOBC sport program development, strategic plans, policies, and resources.
At the induction ceremony, Williams thanked his family and wife Crystal for always supporting his dreams and Special Olympics for helping them come true. He said his experiences as an athlete have truly changed his life.
"Thank you to my coaches and fellow athletes for making every Special Olympics practice and competition I attended fun; for challenging me and helping me to achieve my full potential in all of my sports," he said.
Builder Inductees (Local): Lee Chic and Joanne Thom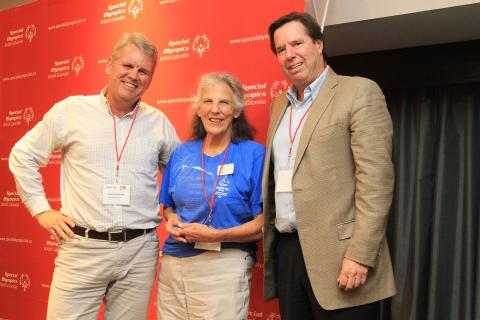 SOBC – South Okanagan Local Coordinator Lee Chic has been the driving force in her Local's success for the past 12 years. After the Local had been shut down for five years, Chic made it her mission to breathe new life into SOBC – South Okanagan.
To build the programs back up, Chic took an innovative approach. Oliver and Osoyoos are popular tourist destinations, and their populations can fluctuate between seasons, making fundraising a challenge. Chic reached out to the communities and asked if she could come every week and collect their bottles and cans for recycling, using the proceeds to benefit SOBC – South Okanagan programs. For the past dozen years, Chic has been the driving force behind this project, which nets thousands of dollars a year for the Local.
Along with playing a critical role in her Local's fundraising, she has also developed an invitational bocce tournament in the area that has become one of summer's annual "don't miss" events.
Chic said it is a great honour to be recognized for her work and is thankful for all the support she has received over the years.
"It's remarkable to be part of such a strong family and community of people that care so deeply for our athletes."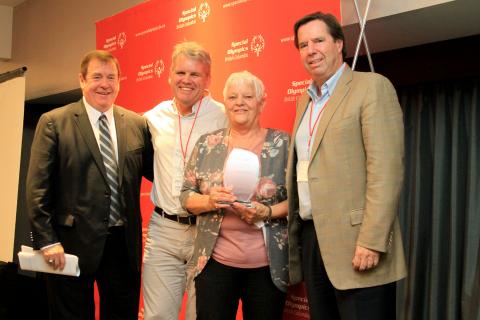 Joanne Thom has been a dedicated Special Olympics BC – Kimberley/Cranbrook volunteer for the past 25 years. During that time she has worked tirelessly for the athletes of her Local, which is one of the hubs of her Region. Thom's commitment to helping people with intellectual disabilities came to the forefront when she stepped up and took on the role of Local Coordinator.
Her dedication to her Local ensures quality programming that offers 5-pin bowling, alpine skiing, basketball, bocce, curling, golf, softball, swimming, and Club Fit, as well as Active Start/FUNdamentals for young athletes.
Thom put in countless hours to resurrect one of the only SOBC alpine ski events in B.C., ensuring that athletes from around the province had a yearly competition. She also worked hard to bring a first-class golf tournament to the Local, helping raise valuable funds.
Her passion for serving her Local also extends to her commitment to volunteering for both provincial and national events. Always willing to lend a hand, Thom has represented B.C. as the parent liaison at five National Games and three World Games.
At the induction ceremony, Thom said she had no idea when she first became involved all those years ago that she would receive such an honour. While not generally at a loss for words, Thom admitted she was almost speechless when told of the honour. 
"Like all of you, our families are our family, and our family increases immeasurably when we get involved in Special Olympics." 
 
Builder Inductees (Provincial): Michael Campbell, Pam and Moray Keith, Rick Lucy, and Colin MacKinnon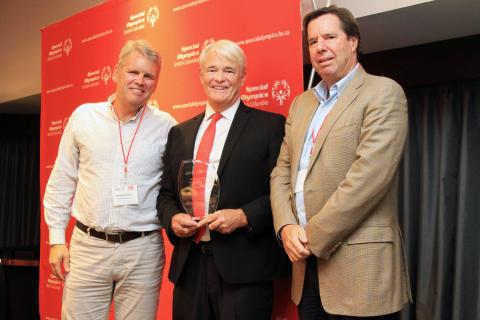 Michael Campbell is one of Canada`s most respected business analysts, best known as the host of Canada's top-rated syndicated business radio show MoneyTalks and the Senior Business Analyst for BCTV News on Global. Through his hard work for SOBC, he was instrumental in securing a grant of $1 million.
Campbell's fundraising efforts also include him being Chair of the annual Goldcorp Invitational Golf Tournament. Through his leadership and his considerable network, the tournament has gone from raising $70,000 a year for SOBC to more than $380,000 a year, making it one of SOBC's most important fundraisers. 
Campbell was also instrumental in negotiating a $1-million dollar sponsorship for SOBC.
Since 2005, he has used his World Outlook Financial Conference to raise funds and awareness for SOBC, and he uses his MoneyTalks radio program to increase the visibility of SOBC programs, athletes, and sponsors. As well as being a dedicated fundraiser, Campbell donates generously to SOBC.
While being inducted, he said it was a great honour to be associated with so many wonderful people who dedicate their time to Special Olympics and are willing to take action to move the organization forward.
"This is a terrific honour, and what has made it that is the terrific people you get to hang out with," Campbell said. "I work in a world where talk is rewarded. We work in a society where increasingly talking the right talk seems to be the measure. But that doesn't get much done. We're in a room right now where people are prepared to walk the walk."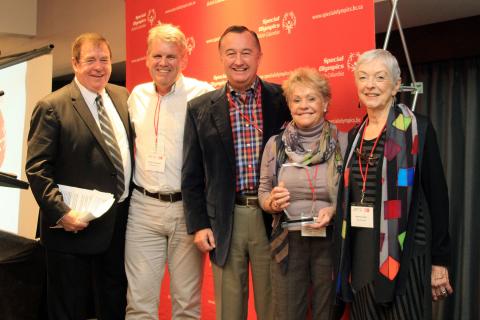 Pam and Moray Keith are significant supporters and influencers within the B.C. automotive community and have helped build a strong relationship between the New Car Dealers Association and Special Olympics BC. As owners and leaders of the Dueck Auto Group, Pam and Moray show remarkable dedication to helping Special Olympics BC athletes. 
Pam is currently Past Chair on the SOBC Board of Directors, having previously served as Chair. Both are heavily involved in all of SOBC's major fundraising events, selflessly donating their time and money to the Goldcorp Invitational Golf Tournament, the Sports Celebrities Festival presented by Wheaton Precious Metals, the New Car Dealers Foundation / Special Olympics BC Auction, and the Vancouver Polar Plunge for SOBC presented by Westminster Savings Credit Union. Pam and Moray also encourage their employees to fundraise and volunteer for SOBC.
Pam and Moray host show-and-shines at their three dealerships, donating the funds raised to Special Olympics BC Locals.

On top of all this, they provide Special Olympics BC with the use of large trucks for transporting equipment for the Goldcorp Invitational Golf Tournament, Healthy Athletes screenings, and Provincial Games.
While receiving the honour, Moray Keith said his family are blessed to be a part of the Special Olympics family. He said it's a humbling experience to be welcomed into the Hall of Fame.
"It really is an honour to be mentioned beside so many other worthy recipients, both past and present," Moray said.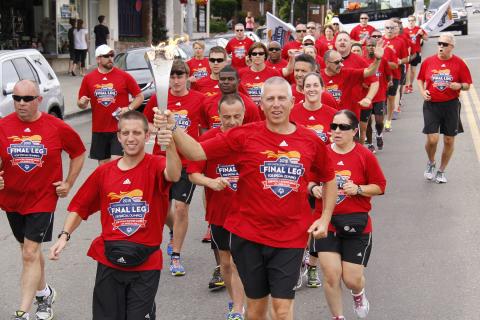 Rick Lucy has been an instrumental part of the success of the Law Enforcement Torch Run for Special Olympics BC. As the recently retired Deputy Chief Constable of the Abbotsford Police Department, Lucy has a long history with the LETR. He ran in the very first LETR event in B.C., from Calgary to Vancouver, to open the 1990 Special Olympics Canada Summer Games.
Twenty-eight years later, Lucy found himself once again carrying the torch for SOBC, as he was part of the five-day LETR Final Leg that kicked off the 2018 Special Olympics Canada Summer Games in Antigonish, Nova Scotia. In July 2009, he chaired the Games Organizing Committee for the Special Olympics BC Summer Games held in Abbotsford. One year later, he joined Team BC as a mission staff member for the 2010 Special Olympics Canada Summer Games in London, Ontario. 
As a vital builder of the LETR in Abbotsford, Lucy has been an active leader on the BC LETR Executive Council and stepped into the role of Provincial Director in 2010, and he serves on the LETR International Executive Council as Regional Coordinator for Region XI (Canada). Lucy also sits on the SOBC Board of Directors.
In addition to his work with the LETR, Lucy volunteers as an SOBC coach and has attended National and World Games. He participated in the 2011 Special Olympics World Summer Games in Athens, Greece, as an assistant coach with Special Olympics Team Canada's soccer team. Lucy was also part of the Final Leg of the Torch Run at the 2015 Special Olympics World Summer Games, culminating in the time-honoured tradition of lighting the cauldron at the Opening Ceremony.
"It is truly an honour and quite humbling for me to be named to the SOBC Hall of Fame," says Lucy. "I cherish every moment I've had with Special Olympics BC and LETR, and I look forward to continuing to build inclusive communities and enriching the lives of people with intellectual disabilities."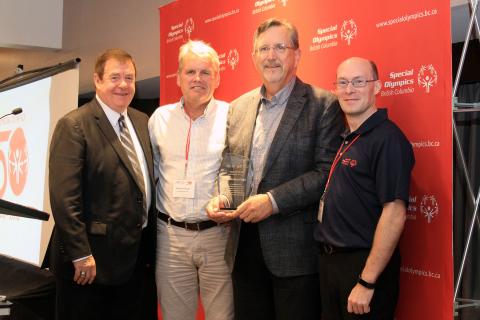 For the past 35 years, Colin MacKinnon has been a dedicated and true friend of Special Olympics BC. He is currently the longest-serving member on the SOBC Board of Directors, first joining in 1986.
During this time he has held the positions of Chair, Past Chair, Treasurer, and Vice Chair, and has played a crucial role in the development of SOBC financial policies and practices.
For two decades, he was a key organizer of the Tiger Williams Golf Classic, which was one of the most significant sources of funds for SOBC for many years. When Tiger's tournament wound up, he continued his support by volunteering on the Final Fore Golf Tournament and Goldcorp Invitational Golf Tournament committees.
In 2013, SOBC had the great pleasure of awarding MacKinnon with a Queen Elizabeth II Diamond Jubilee Medal. Created on the occasion of the 2012 celebrations of the 60th anniversary of Her Majesty Queen Elizabeth II's accession to the Throne as Queen of Canada, the medal serves to recognize significant contributions and achievements by Canadians.
MacKinnon also served on the Special Olympics Canada Board of Directors for over 12 years, taking on many roles including Chair.
Most recently, MacKinnon working on a task force for Special Olympics Canada. MacKinnon was part of a team planning the organization's 50th anniversary, with the goal of enhancing the Special Olympics movement nationally and provincially. With its Global Day of Inclusion and its #50moments campaign, the dedicated work of MacKinnon has helped raise the profile of Special Olympics in this global anniversary year.
During his induction speech, MacKinnon said the SOBC Hall of Fame honour would not have been possible without the support of his family, who did so without reservation or hesitation.
"I've never been able to balance my Special Olympics ledger," Mackinnon said. "From the beginning, I was driven by a feeling that I received more than I had given and it's that core feeling that has motivated me for more than 35 years."
Sponsor Inductees: Pacific Coastal Airlines and Wheaton Precious Metals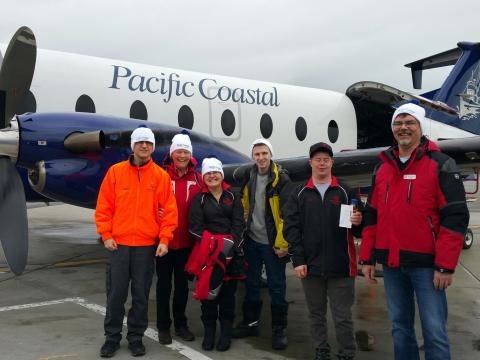 Pacific Coastal Airlines has been a significant contributor to the success of Special Olympics BC and its athletes since it first came on board as a sponsor in 2000.
For Special Olympics BC staff, volunteers, and athletes, the cost of flying to an event or function can be a real barrier. Fortunately, Pacific Coastal Airlines helps SOBC bring athletes and communities together from across the province to share their love of sport.
A great B.C. airline, they generously provide regular schedule, charter, and cargo services to 65-plus destinations across B.C., as well as air travel for SOBC athletes, coaches, and volunteers to attend events all over the province.
Recently, Pacific Coastal Airlines has helped many athletes get to Regional Qualifiers, providing an essential opportunity for athletes to compete at these events and have the chance to represent their Region at next year's 2019 Special Olympics BC Winter Games in Greater Vernon.
Quentin Smith, President and CEO of Pacific Coastal Airlines, has supported SOBC for many years and their generosity also includes donations of auction items to our three major fundraising events, the Goldcorp Invitational Golf Tournament, the Sports Celebrities Festival presented by Wheaton Precious Metals, and the New Car Dealers Foundation / Special Olympics BC Auction.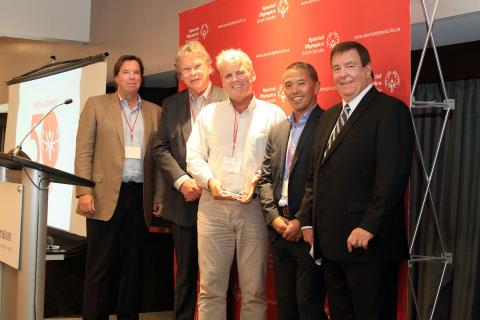 Wheaton Precious Metals has been the Presenting Sponsor of the Sports Celebrities Festival since 2006, helping this inspiring and interactive gala raise more than $5.5 million to date for SOBC and the Canucks for Kids Fund.
In 2009, Wheaton Precious Metals increased their support by becoming a significant and ongoing sponsor of the Goldcorp Invitational Golf Tournament. The Vancouver-based company also stepped forward in 2014 as a prominent sponsor of the Special Olympics Canada Summer Games in Vancouver. The company also provides SOBC with silver coins and bars for use in auctions, raising even more funds.
Wheaton Precious Metals CEO Randy Smallwood has also generously supported SOBC through his efforts as a member of the SOBC Board of Directors since 2012. In September 2016, he took on the role of Chair and was re-elected to this position in September 2017 and September 2018.
Additionally, Smallwood served as Honorary General Manager for Team BC at the 2016 Special Olympics Canada Winter Games in Corner Brook, Newfoundland. Smallwood attended team training camps before the Games and travelled to Newfoundland to cheer on athletes at their events.
In his speech after being inducted, Smallwood said he understands the value of the volunteer time it takes to make Special Olympics BC work. As Chair of the SOBC Board of Directors, he said that became clear as he talked with most of the other 2018 SOBC Hall of Fame inductees. He said everyone he talked to is excited about what lies ahead for SOBC.
"You know what astounded me, and it was a pretty consistent response from every single one these recipients, was 'I'm not done yet!'" he said. "It just goes to show, we're not done, and we've got so much more we can do."