Changing lives through the power of sport
About the Goldcorp Invitational
The Goldcorp Invitational Golf Tournament is one of Vancouver's premier golf events. To date, the event has raised nearly $3.2 million to benefit Special Olympics BC, supporting our year-round sport and youth programs, empowering competitions, health and leadership programs, and social change for individuals with intellectual disabilities throughout the province. This fully stocked golf experience is coming to Surrey's magnificent Northview Golf & Country Club on June 20, 2019.
The Goldcorp Invitational attracts Vancouver's business elite and has become one of the Lower Mainland's must-attend golf events.
Event details
When: Thursday, June 20, 2019
Where: Northview Golf & Country Club
6857 168th Street
Surrey, B.C.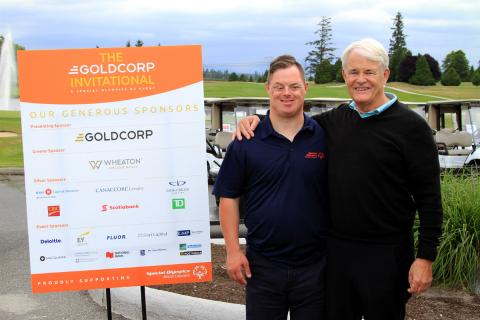 More information
The 2019 Goldcorp Invitational will take place on Thursday, June 20 at Northview Golf & Country Club. We are so grateful to everyone who supports and attends this important event!
Supporters can be part of this highly regarded golf experience by becoming a sponsor or donating an auction item. Please click below to view the opportunities:
Please click here to read the recap of the successful 2018 tournament.
Tournament format
This unique event has two distinct tournaments. On Northview's Canal Course, the Scramble tournament consists of teams of four (new in 2018) who play in a scramble format. Traditionally the teams are comprised of both keen golfers and those who are, shall we say, newer to the game, but the one thing they have in common is a desire help provide a bridge to the community at large for people with intellectual disabilities.
On the Ridge Course, the Tournament side has four-person teams with handicaps lower than 18. Everyone plays their own ball and the net two lowest scores count. The Tournament side is a competitive tournament complete with scoreboard updates. The field is restricted to a limited number of teams, which means both the pace of play and the movements on the leaderboard are fast.
The day finishes with an evening of inspiration where golfers enjoy a full dinner, entertainment, live and silent auctions, and powerful messages from Special Olympics BC athletes and supporters.
Our generous 2018 sponsors
Event Sponsors
Past tournaments
Stories
Photos