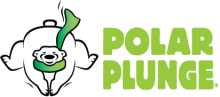 Get ready to laugh, splash, and support a great cause at Polar Plunge for Special Olympics BC events in 2019! These frigid and fun events will see participants charge into icy waters to raise funds and awareness for SOBC.
The Vancouver Island Polar Plunge for SOBC is at Willows Beach on February 17 and the Vancouver Polar Plunge for SOBC presented by Westminster Savings Credit Union is at Kitsilano Beach on March 2. Register and find out more at www.plunge4specialolympics.com.
Too chicken to get chilly? Send your contact information to mishida@specialolympics.bc.ca to get involved as a volunteer. Supporters can also help by making a donation to the Polar Plunge.
Stories from past Polar Plunge for SOBC events
SOBC supporters make big waves at Polar Plunge events
Fearless Plungers get bold and cold for SOBC
First Polar Plunge for SOBC makes a big splash
Get bold and cold with the first Vancouver Polar Plunge for SOBC
Scenes from past Polar Plunge for SOBC events
2018 Greater Victoria Polar Plunge