Fearless Plungers get bold and cold for SOBC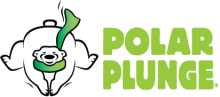 2018 was the chilliest year yet for Special Olympics BC!
For the first time, fearless participants laughed, splashed, and charged into icy water at two Polar Plunge for SOBC events. On March 3, brave Plungers in creative costumes returned to Kitsilano Beach for the third annual Vancouver Polar Plunge for SOBC presented by Westminster Savings Credit Union. We were also thrilled to introduce the first-ever Vancouver Island Polar Plunge for SOBC at the Greater Victoria area on March 11.
Stand by for registration for the 2019 fun-filled BC Law Enforcement Torch Run events, and sign-up as a team or an individual. Encourage your friends, family, colleagues, and classmates to take part and join the fun!
Too chicken to get chilly? Send your contact information to plunge@specialolympics.bc.ca to get involved as a volunteer. Supporters can also help by making a donation to the Polar Plunge.
Stories from past Polar Plunge for SOBC events
SOBC supporters make big waves at Polar Plunge events
Fearless Plungers get bold and cold for SOBC
First Polar Plunge for SOBC makes a big splash
Get bold and cold with the first Vancouver Polar Plunge for SOBC
Scenes from past Polar Plunge for SOBC events
2018 Greater Victoria Polar Plunge