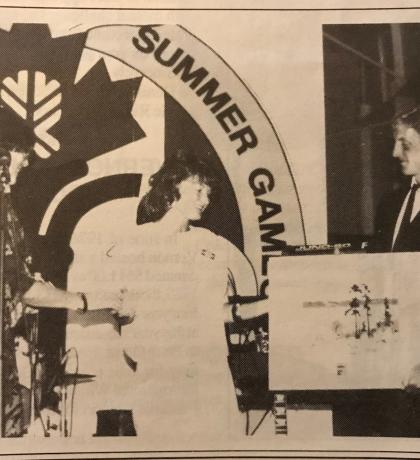 As we celebrate the 50th anniversary of Special Olympics, we are taking a look back at the #50moments that have defined the Special Olympics movement here in B.C. and throughout the world.
Thousands of Special Olympics BC athletes, volunteers, and sponsors help to inspire greatness within our organization and within our community. Special Olympics BC is proud to recognize the exceptional contributions and achievements of SOBC athletes, volunteers, and sponsors through our annual awards.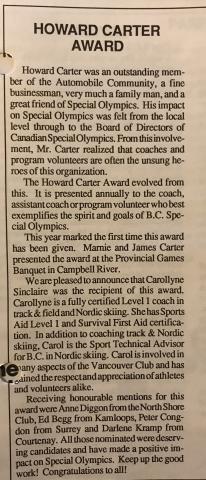 The Special Olympics BC awards program began in 1989 with the creation of the Howard Carter Award, which is presented annually to the coach, assistant coach, or program volunteer who best exemplifies SOBC's spirit and goals. The inaugural recipient of the award was Vancouver's Carollyne Sinclaire, an athletics and cross country skiing coach and provincial Sport Technical Advisor for cross country skiing who "gained the respect and appreciation of athletes and volunteers alike."
The Howard Carter Award was created in memory of the upstanding member of the automobile business community and great friend of Special Olympics whose impact was felt from the local level through to the Board of Directors of Special Olympics Canada. From his involvement, Carter realized that coaches and program volunteers are often the unsung heroes of this organization, and he wholeheartedly recognized their value. The Howard Carter Award evolved from this. 
In 1990, the SOBC President's Award was added to recognize the essential contributions of non-coaching volunteers who are dedicated to planning, organizing, and operating sport programs, fundraisers, or competitions. These volunteers are incredible assets to Local Committees and are always willing to take on leadership roles to ensure that athletes and volunteers have the best experience possible. 
The inaugural President's Award winner was Vancouver's Edie Burditt, who had been involved for a decade and was widely known for being always there to lend a hand dependably in every possible kind of role, from training volunteers and putting out newsletters to washing cars and uniforms and selling Christmas trees.
In 1996, the SOBC Spirit of Sport Award was introduced to celebrate athletes who exemplify the true meaning of sportsmanship, inspire fellow athletes and coaches, and live by the Special Olympics Athlete's Oath: "Let me win. But if I cannot win, let me be brave in the attempt."
The inaugural winners were Barry Creasy of SOBC – Kimberley/Cranbrook and Barb Scrutton of SOBC – Coquitlam. 
Asked what Special Olympics means to him, Creasy said, "It's fun. It doesn't matter if I win or lose as long as I have fun, make friends, and work hard to keep up my strength." Scutton said, "I like to participate with others, and to encourage others when they are down. I like the coaches – they are good. I also enjoy competition."
In 2005, the SOBC awards program expanded to include the Athletic Achievement Award, with the inaugural prize going to Jason Mills, then a decorated Port Alberni athlete and now a Nanaimo athlete with even more accomplishments to his credit; and in 2008 the Grassroots Coach Award was added to the roster, with the first recipient being Chris Doyle, SOBC – Surrey's swimming Head Coach known for his genuine interest in his athletes and his willingness to go the extra mile to make sure the athletes have support and their needs are understood. 
The 2019 deadline for SOBC award nominations is April 4. All registered members of Special Olympics BC have the ability to nominate an individual for the President's Award, Howard Carter Award, Spirit of Sport Award, Grassroots Coach Award, and/or Athletic Achievement Award. All nominations must be endorsed by the Local before they are submitted to Provincial Office. Please click here for more details and nomination forms.