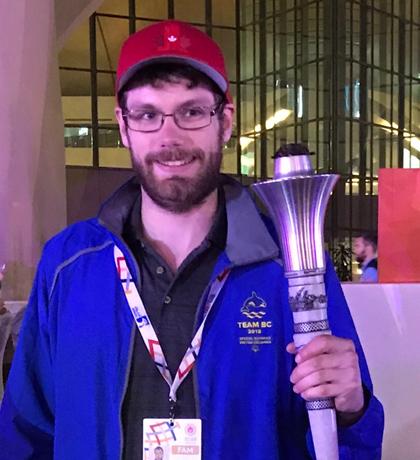 Simon Phipps says being a Special Olympics BC – Nanaimo athlete has helped him become a better person. 
Through Special Olympics, Phipps says he has learned about sportsmanship, teamwork, and co-operation. He has also developed confidence and social skills that have helped him in all aspects of his life.  
"I have become a much better athlete through sports, and I can take the skills I've learned and put them in everyday life," he says. 
Phipps participates in alpine skiing, basketball, Club Fit, floor hockey, swimming, and track and field through SOBC – Nanaimo. He also plays ice hockey outside of Special Olympics.  
Phipps says being active is very important to him.
"It can keep a person with a healthy mind and a healthy body, and it is a great way to relieve stress and it is great to meet new people!" he says.
Phipps says for most of his time in school, he was shy, had trouble making friends, and didn't always feel accepted. In high school, he joined the cross-country running, track and field, and wrestling teams – and this played a big role in helping him develop confidence and make friends. 
Based on his success in high school sports, Phipps's sister Heather Massick suggested he try Special Olympics. More than 10 years later, Phipps says Special Olympics has played an important role in his life and he is grateful to be an SOBC – Nanaimo athlete.
"It's a great organization, you get to practise sportsmanship and you get opportunities to go places," he says.
One of his most memorable moments with SOBC was competing as a member of Team BC at the 2018 Special Olympics Canada Summer Games in Antigonish, Nova Scotia. He says he loved meeting many new people and swapping stories with athletes from all across Canada.
"It was a really good experience!" he said.
In Antigonish, Phipps won gold in the 4x100m relay and silver in the pentathlon. Phipps says he trained very hard for his events and was thrilled with his results. 
"I felt really proud of myself," he said.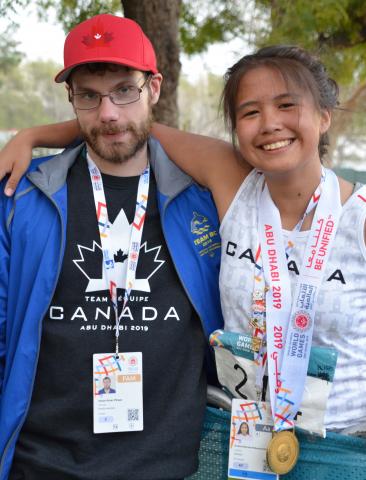 Another National Games highlight for Phipps was being on Team BC with his niece, SOBC – Nanaimo athlete Arianna Phillips. In March, Phipps had the opportunity to cheer Phillips on as she competed as a member of Special Olympics Team Canada at the 2019 Special Olympics World Summer Games in Abu Dhabi and Dubai.
Phipps made the trip to the Middle East along with his father Don Phillips, his mother Kim Phillips, and Massick – who is Arianna's mother. Phipps said seeing his niece win two golds and a bronze at World Games made him feel "excited, happy, and proud." 
"I was a bit emotional. My niece got a PB and I was just happy to be there," he said. "She did very well and she showed good sportsmanship!"
See Phillips achieve a personal best and win gold in high jump at World Games 
A memorable part of World Games for Phipps was seeing Special Olympics Team Canada walk into the Opening Ceremony. He said that moment really emphasised to him that he is part of a global movement. Phipps said there was a very inclusive, accepting atmosphere at the ceremony, and this made him tear up a little bit. 
With SOBC – Nanaimo, Phipps loves to raise funds and awareness for Special Olympics in his community. One of his favourite fundraising initiatives is the Staples Canada Give a Toonie Share a Dream campaign.
"It helps raise money for Special Olympics and spread awareness. It is fun to be part of the event!" he says. 
Outside of Special Olympics, Phipps has a job washing dishes at his local White Spot restaurant. Phipps says he has developed social and time management skills through SOBC that have helped him thrive in this role. 
"I fit in very well with my co-workers; they are a great bunch of people to work with!"
Looking forward, Phipps says he wants to continue to "become a better person." He says to him this means working on being more courteous and thoughtful. Phipps has also completed SOBC's Athlete Speakers Bureau 1 and 2 courses, and would like to find more opportunities to speak in his community about the importance of Special Olympics.