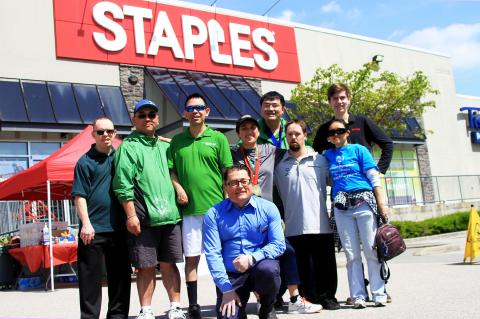 About Give a Toonie Share a Dream
This spring, Staples Canada continued their amazing support of Special Olympics programs across the country with their 19th annual Give a Toonie Share a Dream fundraising campaign, which ran April 27 to May 27, 2019. During the campaign, Staples customers help make dreams happen by donating in stores and online.
Staples Canada stores across the country raised funds and awareness to help support more than 47,500 individuals with intellectual disabilities participating in high-quality year-round Special Olympics sport programs all over Canada. Supporters donated at their local Staples or while shopping online at www.staples.ca/shareadream.
During the campaign, Staples staff and customers enjoy meeting Special Olympics athletes, coaches, and volunteers at their local stores, and having fun with special events such as barbecues and other fundraising activities.
We are very grateful to all the Staples stores, staff, and customers in B.C. for their amazing support, and to the athletes and volunteers throughout the province who give great time and energy to help make this important campaign a success!
Give a Toonie Share a Dream 
When: April 27 to May 21, 2019
Where: Staples Canada stores and online
Staples Canada and Special Olympics
In 2019, Staples Canada and Special Olympics Canada are celebrating their 23rd year of partnership. Through more than two decades of support, the Staples Give a Toonie Share a Dream campaign has raised more than $7 million for Canada's Special Olympics athletes, including nearly $844,000 for SOBC athletes.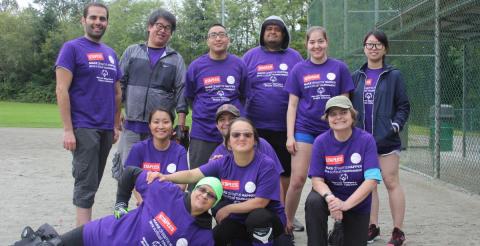 Staples Softball Tournament 
Each summer, softball teams comprised of Staples employees and Special Olympics BC athletes compete in a friendly day-long tournament in Burnaby. Awards are given out not only to the top team, but also to the teams with the most spirit and sportsmanship. Thanks to Staples and all of the employees who never fail to come out in droves to participate in this inspiring day.
Stories
Staples campaign an inspiring success across B.C. (2018)
Inspiration and fundraising success with Staples Canada (2017)
Proud moments with Staples campaign (2016)
Staples campaign an inspiring success across the province (2015)
Staples campaign reaches new heights in support of Special Olympics (2014)