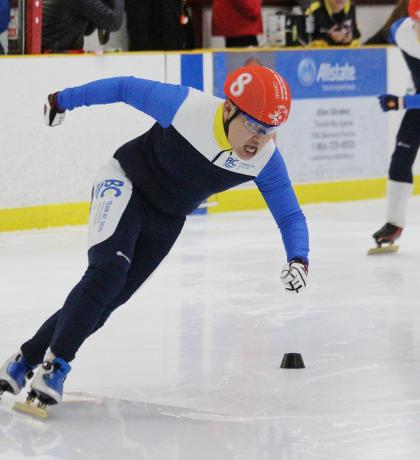 They trained – they came – they conquered their goals. Special Olympics Team BC 2020 put in all the work necessary to give their best possible performances at the 2020 Special Olympics Canada Winter Games, and they truly delivered when it counted. 
"Our athletes want to win and to improve, and they've absolutely stepped up and done that," Chef de Mission Michelle Cruickshank said.
Special Olympics Team BC 2020's determined athletes showed significant skills that turned many heads. They and their dedicated volunteer coaches and mission staff seemed to become well known throughout Games volunteers and venues for their kindness and gratitude. And they showed the highest-quality sportsmanship throughout their events, with many a back pat and high five offered to their opponents.
In Thunder Bay, Special Olympics Team BC 2020 attained 145 medals, a significant quantity of personal-best performances, and memories and friendships that will last a lifetime. Check out more stories below!
Sincere congratulations to all of these amazing athletes! And huge thanks to all the hardworking and caring Team BC coaches and mission staff, dedicated training coaches at home, loving families and friends, and generous SOBC sponsors and Draft an Athlete donors who help Team BC achieve their dreams and make our province proud.
Speed skating: 12 gold, 16 silver, 13 bronze
The phrase heard often in reference to Team BC speed skaters was having "the race of their life!" This applied to Liz Ashton of SOBC – Victoria, who has come such a long way throughout her speed skating career. She has transitioned from a casual skater to a National Games racer who came to compete.
Ashton could be seen at the start line of her 500-metre race pumping her fist and giving herself a pep talk. When the start beeped, Ashton leapt into the lead and never relinquished it. She won gold in the 500 with a time a whopping 11 seconds faster than her divisioning time, and 14 seconds faster than her pre-Games personal best!
"It all came together today, and it was so beautiful," Team BC coach Kaehlen Allison of SOBC – Victoria said. 
Ashton won two gold, one silver, and a fourth-place result at these Games. She was deservedly so proud of herself. And she reflected on her journey. Four years ago, previous SOBC – Victoria speed skating coach Steve Nielsen told her he thought she could qualify for Provincial and National Games if she worked hard. After reaching the podium in Thunder Bay, she said to Allison, "He said I could do it, and I did it!"
Teammate Nicky Chow of SOBC – Richmond was another athlete who had the race of his life. In the 1000m, he lit off the start line and held tight throughout a very close battle in this physically demanding distance. He earned a silver medal and a personal best by a significant seven seconds.
As a whole, the team delivered so many personal bests, and so many demonstrations of outstanding sportsmanship. Witness Paige Norton of SOBC – Abbotsford embracing her dear friend Katie Saunders from Special Olympics Alberta after each of their many close battles in races. Watch Jesse Thibeault of SOBC – Surrey give a mid-race thumbs-up and "you got this!" to a fallen competitor trying to get back to his feet. This team created so much to be proud of. 
"Our athletes rose to the challenge on the track. Thirty-eight personal bests and some of the best racing I have ever seen," Head Coach Donna Bilous said.
"There's not one of them who didn't skate their absolute best," Allison said.
Watch Jesse and twin brother Zack in Special Olympics Canada's video about family bonds in Special Olympics
Floor hockey: Vipers silver, Cougars 4th
What a ride these two terrific teams gave us throughout this tournament! And especially in their rollercoaster medal-round finals.
The Team BC Vipers from Vancouver Island had a strong round robin including a tie against the tough Ontario Peterborough team that everyone was gunning to beat. The Vipers had a particular desire to topple them having dropped the 2016 National Games gold-medal game to Ontario. And so the stage was set for the gold-medal game between the Vipers and Ontario Peterborough.
"This is a rematch, four years ago," Comox Valley player Brad Hogan commented in the warmup. Then he headed out on the game's first shift and ripped in a goal on a solo effort to put the Vipers up 1-0. The Vipers then moved into stifling defensive play, and goaltender Jason Mills of Nanaimo coolly turned away tons of shots. Victoria's Max Porcher gave the Vipers more breathing room when he fired a great goal in the second period.
But Ontario kept on the pressure and clawed their way back to tie the game at 2-2. The Vipers didn't panic, and held course, but gave up a penalty and Ontario was able to capitalize for a 3-2 lead. 
In the last shift of the game, Porcher headed out with his teammates, saying "Let's make it count!" They killed off the end of a penalty, then drew a penalty with 44 seconds remaining. With just three seconds to go, Porcher scored to tie the game at three and, seemingly send it to overtime – but it wasn't to be, as Ontario managed to slip in a surprise goal with two seconds left to claim the 4-3 win.
The Vipers should be very proud of themselves for winning the silver medal in Thunder Bay with such thrilling, gutsy play! They were paced by the likes of Powell River's Tanya Norman, who doesn't back down against anyone. Pressed by several opponents in a corner late in the gold-medal game, she persisted in keeping the puck away from them at all costs and drew the whistle. She also drew an approving comment from one of the referees, who felt compelled to call out to compliment her.
The Team BC Cougars have players and coaches from SOBC – North Shore, Richmond, Burnaby, and Abbotsford as well as coach Kyle Eriksen from Victoria. They had a slower start to the tournament as they battled hard and worked to get their feet under them together.
By the end, they were playing for pride and for Raf Greenaway, a longtime teammate who had been unable to come to Thunder Bay at the last minute due to medical issues. So they headed into their bronze-medal game against Alberta full of passion and cheers of "Raffi! Raffi! Raffi! Cougars!"
After Alberta opened the scoring early, there were many battles and end-to-end action. Then SOBC – North Shore's Kevin Geant roofed the puck to put the game into a 1-1 tie. After that, the story was all stifling defence and absolutely clutch play by goaltender Austin Johnston of SOBC – North Shore, so the game headed into overtime.
And what an overtime! The teams were so well matched and working so hard that they played what seemed like seven shifts of overtime – an extra period and a half. Incredibly, the Cougars killed off both a 5-on-3 and 5-on-4, giving their opponents no space while Johnston stood tall.
But finally Alberta managed to snap a high shot past the wall of Johnston, bringing an end to the game and leaving the Cougars claiming fourth place. 
We are so proud of both teams and their hardworking members!
Curling: Vipers and Leprechauns 4th, Kingfishers 6th
Our three stellar curling teams turned in terrific performances on and off the ice – this story about their outstanding sportsmanship is one example of many.
The Team BC Kingfishers with players from SOBC – Kitimat and Prince George showed great form upon arriving at these Games, and were moved to compete in a higher division than previous competitions, a great accomplishment reflecting their improvements. The Kingfishers claimed sixth place in their division after their strong tournament play.
Kingfishers player Theo Jack experienced one of many examples of the amazing Thunder Bay hospitality. Dave, Mike, and Paul are the 4-Letter Boys Club here. They decided they wanted to recruit a new member, and they love curling, so they chose our own Theo Jack. They made him a poster and came to cheer for Theo! He was very, very moved.
The Team BC Vipers from Victoria and Leprechauns from Burnaby/Richmond both led their pools in round-robin play with their confident curling. After dropping close games in their semifinals, they both ended up playing for the bronze medal, but just missed out on the podium. 
These classy teams closed the tournament by presenting their Coat of Arms to the Head Official, who was very touched.
"I felt very happy competing. I had to train hard for the Games, and I lost a lot of weight to be ready for the competition. I feel very proud of what I accomplished," Jack wrote after his team's success. "If it wasn't for Special Olympics, I would never had a chance to come to the city of Thunder Bay. I have had to learn better eating habits. I have had to attend every practice and exercise regularly. Without people supporting Special Olympics, I would never have had a chance to compete and learn all of my skills."
Figure skating: 6 gold, 2 silver, 2 bronze
"I love this team," Head Coach Jessica Chapelski said. "So many personal bests. So many obstacles overcome. So many medals. Amazing athletic achievement. Plus they're hilarious and so much fun to be around. Just awesome human beings!"
These awesome human being truly delivered on the ice at these Games, leaving lasting impressions. The determination of Nanaimo's Arianna Phillips, who headed out for her final freeskate with the inspiring words: "I'm stoked. I'm ready. Let's do this." She then delivered an elegant, powerful skate including a top-quality lutz. 
The personality of Surrey's Stephanie Divin, who chose her Star Wars music to match her May 4 birthday, and Jordyn Flamma, who sews her own costumes!
The grace and smile of Vancouver's Tin-Yee Ho, a first-time National Games competitor who has come so far in her years as a Special Olympics skater. Just two years ago she was not happy to skate; now she is fully engaged in her sport, showing wonderful polish in her performances, and having fun. 
The veteran savvy of Vancouver's Alexander Pang, who overcame a skate-lace mishap to deliver a rich freeskate and win gold, as well as Surrey's Marc Theriault, a national icon who was golden again with such grace in his 10th National Games.
Much love and respect to all the determined team members!
5-pin bowling: 5 gold, 5 silver, 6 bronze
When the bowlers took part in their Team BC Summit, they all wanted to improve their scores by a certain percentage at the National Games. And they achieved this, racking up a major team personal best!
The National Games bowling alley was one of the best places to be because these passionate, supportive athletes and coaches made the atmosphere electric. If you're ever feeling down, you need to be around Team BC's bowlers because their high-fives and joy of sport are just the best!
The team left Thunder Bay with a raft of individual medals, team gold, team silver, team bronze, and a coach with pink hair! While Dawson Creek's David Johnston didn't bowl a 400, per the bet with coach Jack Walsh, Walsh went ahead and dyed his hair on the last day of competition to help energize his awesome team. (Please click here for the background story!)
Cross country skiing: 14 gold, 7 silver, 11 bronze
This team has worked so hard to be at their best for these National Games, and it sure showed on the Kamview Nordic Centre course. Thunder Bay is a major national Nordic-sport centre, so the wonderful volunteers who ran these races really know what they are talking about. And when they saw the skills and times of the SOBC athletes, even on the very first training day, they told Team BC how impressed they were. 
"The times were stunning," Head Coach Garth Vickers said. He also pointed out that the athletes on this dedicated team range in age from 15 to 49, an impressive span given all the hard work put in.
SOBC – Kelowna's Francis Stanley, the flagbearer for Team BC, led the medal parade with three gold medals. He is a great source of encouragement for all his teammates, including Kelowna's Dimitri Konstant, who had a breakout performance in his first National Games. Konstant lost to high-achieving Alberta athlete Shane Stewart in the 2019 SOBC Games in Vernon, but after getting close to him in the 7.5-kilometre race, Konstant had Stewart in his sights during the 10km race, and used the second lap to beat him out for the silver medal!
There were firsts even for veterans like Kelowna's Tracey Melesko, who won four medals (the most of her career) in her fifth National Winter Games. And there were first-time National Games performances for the likes of Burnaby's Natascha Sanford, who would cross the finish line out of breath after leaving it all on the course, then immediately beam. What's the one word Sanford would use to describe her feeling about being at National Games? "Thrilled!"
After all their hard work to be ready for these National Games, what do these dedicated athletes want to do? Train more!
"On the flight coming back, two of the athletes said what are we doing on Wednesday... are we going hiking or skiing?" Vickers told Castanet. "It doesn't seem to matter if they're going to World Games - they're in love with the sport."
Alpine skiing: 5 gold, 9 silver, 4 bronze
Tons of improvement was the tale of the week for our amazing alpine skiers. Two came into the National Games as novice-level racers, but had improved so much that they were elevated to intermediate. Vancouver's Malcolm Tietjen was one of those two, and he went on to win three silver medals in intermediate!
Delta's Cory Duhaime paced the team with his tremendous performance of three gold-medal races. He told TBNewsWatch.com he was "having the time of his life, not to mention being a little surprised at the course.
'It's been great,' said the Tswwassen, B.C. native. 'I expected a small hill, but I was surprised at how great the hill has been and how big it's been.'"
Head Coach Randy Scott was thrilled to be coaching the team alongside his daughter Devyn Scott, who was making her National Games debut. 
"It was amazing. It was so great to learn from the best, and just to be here together and experience this has been so life-changing," Devyn said. 
"It was spectacular. It was awesome. It's always been a dream to have Devyn come along with me," Randy said, also praising his daughter's abilities as a professional nurse and all that she brought to the team in that regard as well as on the hill.
"This is a spectacular team. Just a great group of athletes," Randy said. "B.C.'s doing a really good job in the alpine division."
"They are energetic – they are wild and so much fun to be around – they are inspiring. There's so much passion behind them all. That's been the coolest thing to watch on and off the hill," Devyn said.
Snowshoeing: 9 gold, 10 silver, 4 bronze
There were so many outstanding achievements by this hardworking team, starting with 65 personal bests out of a possible 79! Other highlights included the two individual gold medals apiece won by Williams Lake's Austin Weber and Torben Schuffert of Smithers, and the significant improvement shown by Katie Little of SOBC – Burnaby, who logged the team's biggest PB.
Campbell River's Ashley Adie scored two gold medals in the 800m and 1600m, and a silver in the 400m, all with personal-best times. She also notched relay silver with her team. Adie spoke movingly on Twitter about her personal bests. "Six personal bests. Three races where I beat both my entered time and my prelim time! I'm elated!"
We are so proud of these turbo-charged cheetahs! 
Watch Special Olympics Canada's Games highlight reel video:
Learn more about Team BC: