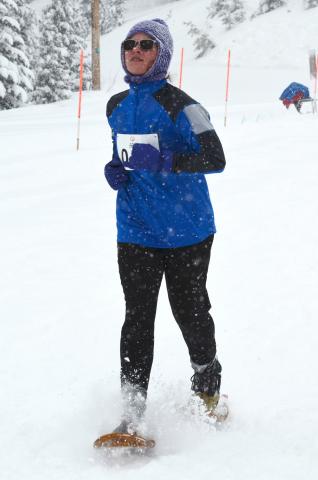 Please click here to draft an athlete
Ashley Adie says being a Special Olympics BC athlete has helped her grow as a person.
"It's given me purpose. It's given me a reason to look forward to the day, something to commit myself to," she says. "It's not just the competitive aspect – it's the atmosphere. It doesn't matter what your differences are, what your background is, or how disabled you are – everyone is inclusive of one another and encourages each other. It is so welcoming!"
Before joining Special Olympics, Ashley kept to herself, felt isolated, and didn't have many friends. Through Special Olympics BC, Ashley says she has found a place where she belongs and feels accepted. She has also developed confidence and social skills that have helped her in all aspects of her life.
"My social circle has expanded tremendously!" she says. 
Ashley is one of 143 Special Olympics Team BC athletes training to compete at the 2020 Special Olympics Canada Winter Games in Thunder Bay from February 25 to 29. Here, athletes with intellectual disabilities from across the country will develop important skills, self-confidence, and meaningful friendships. 
"I feel honoured to be part of the team!" Ashley says. "I am just really looking forward to representing B.C., and showing the country what I've got and what the snowshoeing team has to offer."
Ashley has competed at National Games before, as a Special Olympics Team BC 2018 track and field athlete, and says it is an incredible experience. 
"It's almost surreal to go to Games – you are here because you have worked so hard! I find it exciting, humbling, and eye-opening," she says. 
Ashley says hearing the crowd and feeling the adrenaline rush before a race at National Games is like nothing else.
"It's an explosion of electric positive energy!"
Ashley participates in several sports in her community's year-round Special Olympics programs, and as a Team BC athlete she has committed to training at least three days a week – which she often exceeds. Her goal for Thunder Bay is to achieve new personal bests. While she would love to win a medal, she says a new best time shows her she has improved – and all her hard work has paid off. 
By drafting an athlete for the Games, you can help Special Olympics athletes like Ashley be part of this exciting, empowering, and frequently life-changing experience.
Draft an athlete
By donating $1,000 you will draft a Special Olympics Team BC athlete and help fund their travel, accommodation, meals, and competition costs.
Your donation will help give an athlete the full empowering Games experience. Athletes will represent their province with pride as they compete at high-calibre athletic venues with top-notch officials. They will also create meaningful friendships and lasting memories at the athletes' village and during the Opening and Closing Ceremonies. 
Change a life
The true impact of your donation will be felt by the athlete whose life will be forever changed by the skills, friendships, and confidence they develop through the exciting experience of national competition. To draft an athlete now, please click here.
Donor benefits
Draft donors will receive a charitable tax receipt (if eligible), a thank-you postcard from a Team BC 2020 athlete sent from National Games, and recognition in Special Olympics BC's online channels.
To download a form for offline payment please click here
DRAFT AN ATHLETE DONORS
Elkford Lions Club
Fairmont Hot Springs Lions Club
Heather Hamilton-Wright
Kelowna Elks Lodge #52
Peninsula Retirement Residence
Royal Canadian Legion, Penticton Branch #40
Royal Canadian Legion, South Burnaby, Br. 83
Steve Mo, VP, TD Business Banking
Victoria Police Department
Westside Elks #592
Wolf in the Fog