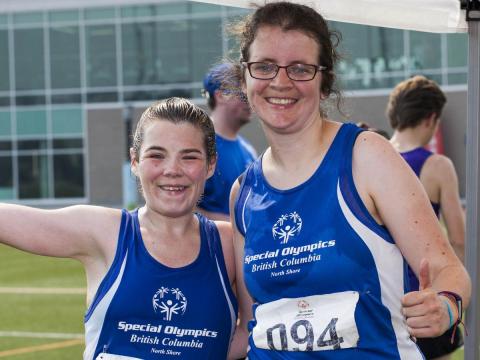 When Kristina Tammark started participating in Special Olympics BC programs, she couldn't walk up eight steps without losing her breath. Now, she is getting ready to travel across the country to compete in three long-distance running events at the 2018 Special Olympics Canada Summer Games in Nova Scotia.
Kristina is one of more than 230 Special Olympics Team BC athletes who are preparing to compete on the national stage this year. In May, nearly 60 athletes will travel to Charlottetown and Summerside, P.E.I. to take part in the 2018 Special Olympics Canada Bowling Championships, and more than 175 athletes will compete in nine sports at the National Games in Antigonish, Nova Scotia this July.
Kristina's journey to National Games began in 2006, when she joined the Special Olympics BC – North Shore basketball team and started walking with her coach to help build her strength.
As Kristina's fitness levels improved, so did her mental health and confidence. She lost an incredible 89 pounds and took up running, initially challenging herself to complete a 1,500-metre race and increasing her distances year by year.
She now competes in three-kilometre, five-kilometre, and 10-kilometre races, and brought home gold medals in all three of these events at the 2017 Special Olympics BC Summer Games in Kamloops last July.
"I felt great about coming first in my events," she said. "I found [the competition] challenging in a positive way."
Kristina is now hard at work preparing for her next challenge: representing British Columbia on the track at her first National Games this July. She hopes to win another three gold medals and qualify for the 2019 Special Olympics World Summer Games in Abu Dhabi.
For Kristina and many other SOBC athletes, Special Olympics is "a chance to belong and be successful." By drafting a member of Team BC 2018, you will help give inspiring, talented, and hardworking athletes like Kristina the chance to compete at a national level, where they will be able to take centre stage and show their country, and themselves, all that they can do.  
Draft an athlete
By donating $1,000 you will draft a Special Olympics Team BC athlete and help fund their travel, accommodation, meals, and competition costs.
Your donation will support the athlete to have the full Championships and Games experience, including an athletes' village, opening and closing ceremonies, high-calibre athletic venues, and qualified officials
Change a life
The true impact of your donation will be felt by the athlete whose life will be forever changed by the skills, friendships, and confidence they develop through the exciting experience of national competition.To draft an athlete now, please click here.
Donor benefits
Draft donors will receive a charitable tax receipt (if eligible) and thank-you postcard from a Team BC 2018 athlete sent from the Bowling Championships or National Games.
Please click here to donate online
Or download this form for offline payment