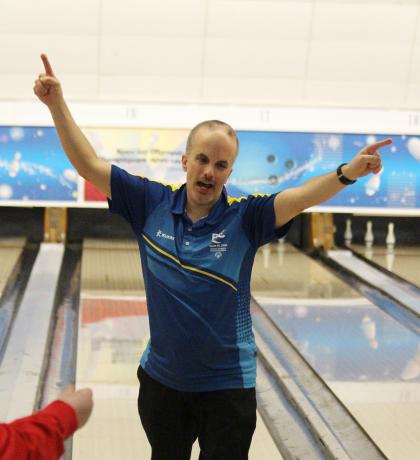 On the opening day of competition at the Special Olympics Canada Winter Games Thunder Bay 2020, Team BC turned heads with their determination, preparation, fitness, skills, and drive. They also earned notice for their outstanding sportsmanship, and their appreciative attitude toward the awesome community hosting these National Games! Check out our Special Olympics Team BC 2020 day 1 highlights below.
*Remember to tune into TSN's SportsCentre daily at 3, 7, and 10 p.m. PT for 2020 SOC Games highlights!
Cross country skiing
Special Olympics BC – Golden's Sebastian Gylander got up on the first morning of competition and said, "I'm going to bring the thunder to Thunder Bay!" Racing in his first-ever National Games event, the 5km final that was also the first cross country race of these Games, Gylander did just that. He exploded out of the gate and never let up, passing competitors throughout the terrific course at Kamview Nordic Centre.
When Gylander hurtled across the finish line, an appreciative volunteer commented, "You were rocking!"
"It was awesome. I passed a lot of people," Gylander said of his race. He liked hitting the finish line with people cheering for him, and felt, "I brought the thunder to Thunder Bay!"
The inspiring teamwork and passion for their sport shared by our Special Olympics Team BC 2020 cross country skiers and coaches was evident throughout their events on day 1. They raced the 5km final and divisioning for the 500m and 1km events. 
After crossing the finish line with his full-hearted effort in the 5km, SOBC – Prince George's Danny Lafreniere gasped out, "I'm so happy!"
The cross country team's day 1 medal count was four gold, one silver, and one bronze captured in the 5km! 
5-pin bowling
Our 5-pin bowling teams hit the lanes for their first day of competition, and played with wonderful positivity and passion. Fine performance and high fives all around!
On Wednesday, Team BC Valley Cats bowler Corey Bennett of Chilliwack was celebrating his birthday! Bennett has been a Special Olympics athlete for 25 years, and is proudly competing in his first National Games. 
Coach Jennifer Knoll of SOBC – Port Alberni commented on how the city of Thunder Bay is making the Special Olympics athletes feel like the rockstars they are. The volunteers have been extraordinary; there are billboards and bus ads and radio spots everywhere; people honk and cheer for them on the streets; and the local Safeway store manager asked Team BC bowlers for a photo op! "We love this city, we love this town, and it just makes us more comfortable," Knoll said.
The bowlers continue playing Thursday afternoon, and their first two days' play will determine when they all hit the lanes on Friday to wrap up competition.
Read about the health challenges Jeri Lee Hodgins has overcome to compete at her first National Games
Floor hockey
The Team BC Vipers and Cougars gave their all in divisioning play. The Vipers opened the day with a rousing victory against Alberta, and went on to tie a 0-0 nailbiter against Ontario's highly competitive Peterborough team. An opposing coach commented on the Vipers' spark and skill, saying, "It's all that mountain climbing you guys do, isn't it?!"
SOBC – Powell River athlete Robert Lang got on the scoresheet against Alberta, and post-game spoke about wanting to make this a successful swan song for his 14-year career in floor hockey – he feels it will be time to try something else after this. But goalie Jason Mills of SOBC – Nanaimo shook his head – he's in it for a longer haul – "I want to play with my daughter, and she's 10 now," he said. 
The Cougars battled through two close divisioning games and brought plenty of spirit to the court. Can't wait to watch both teams play with pride when competition opens on Thursday!
Figure skating
Team BC's figure skaters had a wonderful first day of competition. "Our team had fantastic, attitude, awesome results, and met some pretty great people!" Head Coach Jessica Chapelski said. 
Vancouver's Alex Pang struck gold in his solo dance event, and Surrey's Marc Theriault and Jordyn Flamma captured gold and silver, respectively, in their dance categories. Fun fact: Flamma sews her own skating costumes!
The team also rubbed elbows with Olympic champion Scott Moir!! Competition continues Thursday with final dance events and freeskate run-offs. 
Curling
In the first day of competition, the Team BC Leprechauns from Burnaby/Richmond went undefeated at 2-0, including a thrilling 7-6 win over Alberta. The Team BC Vipers from Victoria played to a 1-1 record, while the Kingfishers from Kitimat claimed a win and a tie. They will continue their skillful play on Thursday and Friday, building into Saturday's medal rounds.
And a sportsmanship shoutout to Team BC curlers! Time and again at Special Olympics events, spectators have the privilege of seeing these athletes display the finest sportsmanship and biggest hearts. While Special Olympics Team BC 2020 athletes are trained, determined, and focused on their athletic performances, we are proud about hearing that they are also known for how polite and appreciative they are. And today a shoutout goes to the Team BC Leprechauns curling team members who, upon seeing a fellow athlete from another province become upset about an understandable sport mistake, dropped their brooms to ensure their opponent was not only OK, but, show her understanding, comfort and support. 
Watching them, athletes and fans alike learned that while being competitive is what we train for, being compassionate is what we aim for. And both have a place on the field of play.
Special Olympics athletes make the world a better place, just by being themselves. Everyone is lucky to know you and watch you in action! 
Alpine
A fabulous first day on the Loch Lomond slopes for our dedicated alpine skiers! In the giant slalom, they scored two gold medals, four silver, and two bronze! Almost all the athletes ended up in higher divisions than they expected, indicating how much they have improved through their terrific training. 
Action continues with Thursday's super G.
Snowshoeing
"Every single one of our snowshoers put turbo jets on their cheetah snowshoes today!" mission staff Tina Giesbrecht said. In their 200m and 400m divisioning races, every one of the 13 Team BC snowshoers personal-best times! Some of the PBs were by significant margins. All that training is paying off!
Thursday will see them take on the 200m final as well as divisioning for the 1600m, 800m, and 100m.
Speed skating
Surrey's Zack Thibault raced to a silver medal in the 3000m final, and the racers were lightning-quick in the divisioning for the 111m, 333m, 500m, and 777m! Thursday they will tackle 1500m, 222m, and 1000m and the finals for the 111m and 777m.
Overheard in the hall at the Team BC residence at the end of the competition day
"Whooo I did good today!!" Love that spirit! Keep it up Team BC!!