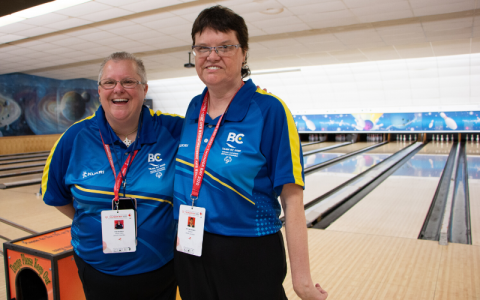 The road to the Special Olympics Canada Winter Games Thunder Bay 2020 has been seven years in the making for Special Olympics Team BC 5-pin bowler Jeri Lee Hodgins and her sister/head coach Fae.
The first time Jeri Lee, 56, had her sights set on the national stage was around the Special Olympics Canada Summer Games 2014 (when 5-pin was a summer sport), but she had to withdraw from regional and provincial qualifiers because she needed heart surgery.
"It's always been her goal to get to the national level," said Fae, adding that Thunder Bay is the Penticton's sisters first-ever National Games.
Born with a hole in her heart, the side effects began to take over Jeri Lee's life – she struggled with extreme fatigue and weakness.
"I couldn't pick up anything that was so heavy," Jeri Lee said in between bowling practice at Thunder Bay's Galaxy Lanes.  "I was weak and I couldn't put on my shoes, I couldn't dress myself in the morning."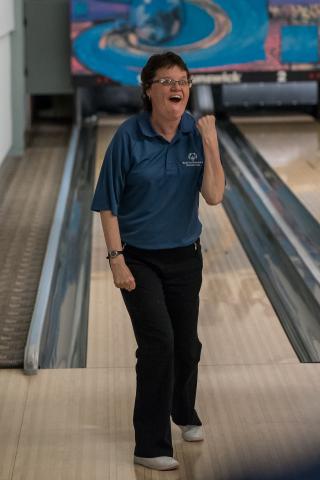 Any movement she could make was difficult, because she was constantly attached to wires monitoring her heart.
She underwent the much-needed surgery in 2013, recovered and finally made her come back at the Special Olympics BC Winter Games Vernon 2019, where she won the gold medal that lead her to the 2020 Winter Games.
"I'm overexcited that I'm here," said Jeri Lee. "I feel great."
After watching her sister go through invasive surgery and a lengthy recovery, Fae couldn't be prouder of Jeri Lee.
"She's really succeeded – she's changed a lot since the surgery," said Fae. "Before, she was not breathing properly and it just brought her down - now she's bubbly and everything else – it drives me crazy sometimes, but that's O.K. – that's what sisters do," she said with a laugh.
"She's got more energy and she's really happy now."
Jeri Lee has been training hard for the 2020 Games, from practicing on the lanes, to walking and biking.
"My goal is to take a medal and take it home and show mum – and have fun," she said.