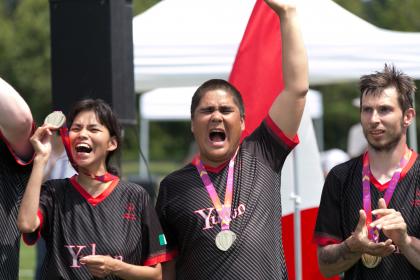 National Games occur every two years alternating between Summer and Winter Games. The Games provide athletes with an intellectual disability an opportunity to showcase their talents and test their skills against their peers making competition fierce and exciting for spectators. The National Games serve as a qualifying event to be part of Special Olympics Team Canada to take part in the Special Olympics World Games. 
Special Olympics Canada Winter Games Calgary 2024
Athletes with an intellectual disability from across Canada's 12 Provincial/Territorial Special Olympics Chapters will converge in Calgary, February 27-March 2, 2024, to compete with the goal of achieving personal bests, and in some cases, the opportunity to be named to Special Olympics Team Canada.
From influencing access and inclusion, to making an economic impact, the event will create an experience that will be a highlight in the lives of all participants.
Divisioning
Special Olympics competitions are structured to ensure athletes compete with other athletes of similar ability in equitable divisions, through a process called divisioning. An athlete's ability and gender are the primary factors in the divisioning of a Special Olympics competition. Divisioning is a two-stage process. When possible, athletes get to compete in a "preliminary round" of their events in order to get a score or time. The divisions are then set up based on each athlete's skill level so that each set of competitors is closely matched. For team sports, such as soccer and basketball, there is a series of short games between teams or an assessment of the team's ability by a committee. The committee then decides on the division each team will compete in. Each division accommodates at least three and no more than eight competitors or teams of similar ability. Athletes of all ability levels are encouraged to participate, and every athlete is recognized for his or her performance. Medals are awarded in each division at National Games. 
Hosting a National Games
Special Olympics Canada now requires interested communities to submit a bid in order to be considered as a host for a National Games and must comply with all the requirements of the bid guidelines. These guidelines outline which features the host community should address when preparing its bid and aids bidding communities in the planning of their proposal to host a National Games.  The document also outlines what Special Olympics Canada sees as important in the preparation of the bid and the related bid documents. Bid guidelines are made available approx. 3.5 years prior to the National Games. 
NextGen Coaching Apprentice Program
Special Olympics Canada and its Provincial/Territorial Chapters strongly believe in a coach education model that develops and empowers Special Olympics coaches at all levels of competition. Beginning with the Special Olympics Canada Winter Games Calgary 2024, the newly established NextGen Coaching Apprenticeship Program will allocate Chapters up to two additional coaching quota spots for identified NextGen coaches to develop their coaching skills through Provincial/Territorial and National Games.
Program Objectives
Build coaching capacity for Special Olympics coaches across all sports
Provide apprentice coaches with professional development opportunities to prepare them for higher level coaching and increase certification
Provide apprentice coaches exposure to and experience in a Multisport Games environment
For an overview of the program, including eligibility criteria, and information on how to apply please click on the links below.