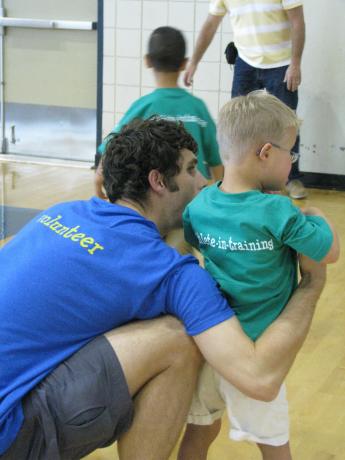 Special Olympics volunteers can choose to get involved at the club, community, regional or Provincial/Territorial Chapter levels. Volunteering at the Chapter level can lead to volunteer opportunities at National or International Games.
Some volunteers offer a few hours of their time a year at specific events, while others work several hours a week year-round. Whatever your interests, talents, background and availability, Special Olympics has volunteer opportunities for you!
Volunteer as a coach or official
All of our sport clubs are fully operated by volunteer coaches who run weekly practices and attend competitions and sporting events with their teams. In order to become a trained coach, you must attend and complete the necessary National Coaching Certification Program (NCCP) workshops. For more information about NCCP training, please visit our Requirements for coaches page or your Chapter website.
Volunteer in your community
We are always looking for volunteers to assist coaches in our local sports clubs by helping out at weekly practices, providing administrative support or team management or lending a hand at local competitions.
Volunteer on a Committee or Council
All of our committees and councils are fully operated by volunteers. Committees and councils are responsible for volunteers and athletes within their community. They are made up of a variety of positions, including Community Coordinator, Treasurer, Volunteer Registrar, Fundraising Coordinator and Secretary.
Volunteer at competitions and sporting events
Sporting events typically involve athletes from several clubs, gathering in one location to take part in official competition. Competition volunteers have the option of getting involved in the planning of the event or simply helping on the day itself (i.e. score keeping).
Event volunteering is suited to people who might be interested in event management or planning. Details may vary by province and territory. Please check your local Chapter website for full details.
For more information about how to volunteer with Special Olympics Canada, please visit our FAQ for volunteers and Resources for volunteers pages. We are happy to help you find a volunteer role that suits your needs.