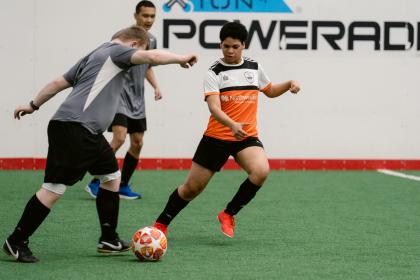 "SPECIAL OLYMPICS HAS GIVEN ME THE OPPORTUNITY TO GAIN CONFIDENCE IN ACHIEVING MY SPORT GOALS AND A CHANCE TO PLAY WITH AND AGAINST ATHLETES WITH SIMILAR ABILITIES TO MINE."
Special Olympics Yukon athlete – Chris Lee
Active Involvement
Since the beginning, enriching the lives of Yukon athletes with an intellectual disability through sport has been our primary concern. As an athlete, you will be able to take part in our many programs designed to improve the lives of those involved. Along with this, there are several initiatives provided to ensure that both your health and wellbeing are considered.
There are currently over 90 children, youth and adults with an intellectual disability in Yukon who participate, on average, in at least two Special Olympics programs per year. The benefits individuals receive from these integrated training and competitive opportunities programs are widely known and include:
physical fitness and conditioning;

improved balance, co-ordination and body control;

increase in sport skills and competitive skills;

increase in self-confidence and social skills.
Youth Development Programs:
We offer 3 programs streams to Yukoners with an intellectual disability:
Active Start (2-7 years of age)

, a dynamic program that uses sport through play to physically engage younger children with intellectual disabilities. This program aims to involve the whole family in the world of sport and physical activity and is a great stepping stone into the Special Olympics Yukon Community.
Active Start is primarily offered in Daycares across the Yukon.
FUNdamentals (7-12 years of age)

, is the continuation of the Active Start program. Participants are introduced to the fundamentals of basic motor skills with elements of training for sports and competition. The program also teaches nutrition, physical fitness and the important role that the family plays in the development of a healthy athlete.
Elementary School Based Program (elementary school aged)

The goal of these programs is to introduce school aged Yukoners with an intellectual disability to sport and competition. Participating students train and compete in several sports throughout the school year. For more information on these programs, please contact your child's school to see if they participate in the Special Olympics Yukon Elementary School Based Program.

Unified School Based Program (secondary school aged)

Unified Sport is an inclusive sport program that brings student athletes with and without intellectual disabilities together for competition. In Unified Sport programs, there is a comparable number of athletes with and without intellectual disabilities on the court/field at the same time. The implementation of a Unified Sport program is meant to create an environment of 'Meaningful Competition' wherein champions work together to create a balanced competitive environment. This way athletes can focus on competing to the best of their ability against evenly matched opponents.

For more information on these programs, please contact your child's school to see if they participate in the Special Olympics Yukon Unified School Based Program.

Community Based Program (13 years and up)

Also referred to as our legacy programs, The Special Olympics Yukon Community Based Programs are run by volunteer coaches. Athletes in these programs train during the evening and weekends and have the opportunity to compete at Regional, Provincial/Territorial, National and/or World Games. Sports Currently offered in the Community Based Program:
Athletics (Year Round)
Bocce (Spring/Summer)
Golf (Spring/Summer)
Powerlifting (Fall/Winter)
Rhythmic Gymnastics (Fall/Winter)
7-a-side Soccer (Year Round)
Swimming (Fall/Winter)
5 Pin Bowling (Fall/Winter)
Cross-Country Skiing (Fall/Winter)
Curling (Fall/Winter)
Figure Skating (Fall/Winter)
To register as an Athlete, please contact our Program Coordinator at ehill@specialolympicsyukon.ca