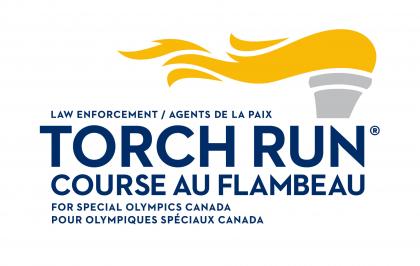 The Law Enforcement Torch Run® (LETR) is the largest public awareness and grassroots fundraising organization for Special Olympics globally. The LETR hold a number of year-round fundraising and awareness events in communities across Canada. The LETR are supported by the Canadian Association of Chiefs of Police (CACP), and have been an active partner of Special Olympics Canada since 1987.
The Torch Run™ is the most well-known event that the LETR host. The Torch Run is an event in which officers run the Flame of Hope™ into an Opening Ceremony at local, regional and national competitions. Grown to include a wide range of regional and national events, the LETR have raised more than $ 72 million in Canada, since its inception.
As retired Chief Richard LaMunyon once said, "What started in 1981…as a flicker of hope for Special Olympics has now become a roaring flame of stability for Special Olympics athletes worldwide."
History of LETR in Canada
The LETR program first began in Wichita, Kansas in 1981. Toronto police officers Chief Jack Marks (Ret'd) and Lorne White (Ret'd) successfully organized the first Torch Run on Canadian soil in Toronto in June 1987. More than 1,100 LETR officers from 36 agencies took part in the event, covering more than 900 kilometres before arriving into Varsity Arena in Toronto to light the flame, signaling the opening of the International Special Olympics Floor Hockey Tournament.
Regional LETR Contacts
To learn more about the Law Enforcement Torch Run, please contact your regional Chapter representative below.
Region XI – Canada
Mark McGugan
LETR International Council 
mmcgugan@londonpolice.ca
Alberta
Braylon Hyggen
Director
director@albertatorchrun@gmail.com
Celeste Soete
Liaison, Special Olympics Alberta
csoete@specialolympics.ab.ca
British Columbia
Rick Lucy
Director, Abbotsford Police Services 
Rlucy111@gmail.com 
Meg Ishida Liaison, Special Olympics BC 
mishida@specialolympics.bc.ca
Manitoba
Kristen Tompsett
Director, Manitoba First Nations Police Service 
kristen.tompsett@mfnp.ca
Jennifer Campbell
Liaison, Special Olympics Manitoba
Danderson@specialolympics.mb.ca
New Brunswick
Brian Cummings 
Director, Miramichi Police Force 
Brian.cummings@miramichi.org
Jane Mckeown
Liaison, Special Olympics New Brunswick
jmckeown@specialolympics.ca
Newfoundland
Wendy Murphy
Co-Director, Memorial University of Newfoundland
wmurphy131@hotmail.com

Lynette Wells
Co-Director, Memorial University of Newfoundland
lwells130@live.ca

Trish Williams
Liaison, Special Olympics Newfoundland and Labrador
trishw@sonl.ca
Nova Scotia
Kim Robinson
Director, Halifax Police Service
robinsk@halifax.ca
John MacDonald 
Liaison, Special Olympics Nova Scotia 
jmacdonald@specialolympicsns.ca
Northwest Territories
Heather Cosenzo 
Director, YellowKnife RCMP
heather.cosenzo@rcmp-grc.qc.ca
Lynn Elkin
Liaison, Special Olympics NT
lynn@sonwt.ca
Ontario
Derek Spence
Liaison, Special Olympics Ontario
DerekS@torchrunontario.com
Karen Richards
Director, York Regional Police Services
5475@YRP.CA 
Prince Edward Island
Scott Stevenson Co-Chair, Retired, RCMP
Charity Sheehan
Liaison, Special Olympics PEI
Csheehanso@eastlink.ca 
Margie Villard
Liaison, Special Olympics PEI
margie@sopei.com
Quebec
Sylvain Chevalier
Acting Deputy Director, Police Department of the City of Mascouche
schevalier@ville.mascouche.qc.ca 
Ode Caron
Liaison, Special Olympics Quebec
ocaron@olympiquesspeciaux.qc.ca
Saskatchewan
Rhonda Meakin 
Director, Prince Albert Police
rmeakin@papolice.ca
Faye Matt
Liaison, Special Olympics Saskatchewan
fmatt@specialolympics.sk.ca 
Victoria Lacelle
vlacelle@specialolympics.sk.ca
Yukon
Grant MacDonald
Director, RCMP
grant.macdonald29@gmail.com
Serge Michaud
Liaison, Special Olympics Yukon
Smichaud@specialolympicsyukon.ca