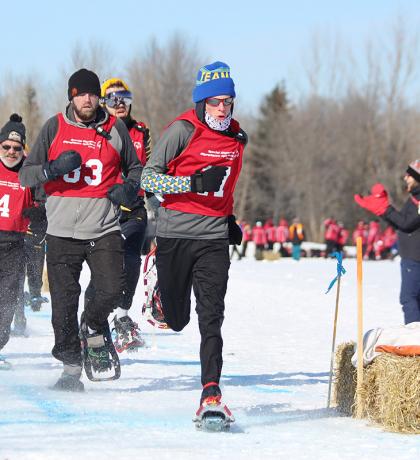 To paraphrase the words of Governor General Julie Payette in the Special Olympics Canada Winter Games Opening Ceremony: When gold is on the line, Special Olympics Team BC is going for it! On day 2 of competition, the impressive athletes on this determined team showed such passion in pursuit of goals and podiums, and so much sportsmanship along the way. Check out our Team BC day 2 highlights below.
Follow all the action on our social media
Media coverage *Remember to tune into TSN's SportsCentre daily at 3, 7, and 10 p.m. PT for 2020 SOC Games highlights!
Snowshoeing
Torben Schuffert of Special Olympics BC – Smithers has shown incredible effort and dedication throughout his weeks and months of training leading into these National Games. And now it's all paying off. In his 200m sprint final, "Turbo" Torben neatly sidestepped the herd and after the bend and blasted away to the finish line. He crossed ahead of bigger, more experienced competitors and captured the gold medal.
After his race, Schuffert said, "It was awesome! And if you do your best, then you'll have a chance to win and make new friends, and do everything you can do, and get more energy. And drink lots of water!"
Schuffert's success was part of an enormously impressive day for the Team BC 2020 snowshoeing team, as they delivered 14 personal-best times and seven medals! Thursday saw them race the 200m final as well as 100m, 800m, and 1600m divisioning. 
And after they successfully shredded the race course, the B.C. athletes could regularly be found turning to their competitors to high five and compliment them on their races. They showed inspiring leadership in this. Their province should be so proud of them!
Watch SOBC – Vernon's Mary Adamson help Olympic swimming champion Mark Tewsksbury learn to snowshoe, joined by other Special Olympics athletes, Olympic figure skating champion Scott Moir, former MP Peter MacKay, and Lori Brunton of Sobeys
Speed skating
"Speed skating was a huge success today!" said mission staff Wayne Williams. They achieved 16 personal-best times as well as winning one gold, five silver, and six bronze medals! Their races Thursday were the 111m and 777m finals and divisioning for the 222m and 1500m. 
SOBC – Nelson speed skater Ian Walgren is making his National Games debut and is the first SOBC speed skater from the Kootenays on a provincial team. His father Bruce is a team coach. Despite being new to the national scene, Ian Walgren looked comfortable and pumped in his 222m divisioning, passing opponents with the calmness of a savvy veteran and achieving a personal-best time. He pumped his fists to the cheering crowd post-race.
Walgren has been training six days a week to be ready for the National Games, and now that it's go time, he looks great. Naturally, there were some nerves and many things to learn about the National Games experience, but his dad said he is settling in well and enjoying his teammates and activities. And "once he got on the ice, he was comfortable with it, he knows that," Bruce Walgren said.
Floor hockey
In pool play on Thursday, the Team BC Vipers narrowly dropped a 4-1 decision to Ontario's tough Peterborough team, and bounced back to beat Manitoba 6-1. With only three teams in their division, the Vipers will take on the same two opponents on Friday. 
The Team BC Cougars are battling hard and while they sat 0-2 after Thursday's play, they're poised to perform with all their hearts on Friday. Medal rounds will follow on Saturday.
Cougars player Kevin Geant played with Team BC floor hockey in 2004, and said the pace of play is "a lot different now, it's tougher now" – but his team is getting stronger and stepping up.
Figure skating
On Alexander Pang's birthday, the figure skating team had "another fantastic day!" Head Coach Jessica Chapelski said. "I'm blown away by how wonderful this team is. So kind, so supportive, so hardworking, so focused on the job."
SOBC – Surrey's Stephanie Divin won a bronze medal in her Level 1 solo dance event, with a beautiful skate! The team will wrap up competition on Friday with all the freeskate finals.
Curling
The Vipers from Victoria and the Leprechauns from Burnaby/Richmond both improved to 3-1 records and both sit first in their pools! The Kingfishers from SOBC – Kitimat and Prince George have battled hard and there will be a fascinating Friday ahead for them. Curling concludes with Saturday's medal rounds.
Cross country skiing
This talented, determined, supportive team earned two gold, four silver, two bronze, and so many personal bests and moments of joyful successes! So proud of all of them! Competition continues Friday and ends with relays Saturday.
Alpine skiing
Our amazing alpine skiers earned four medals and several strong fourth-place finishes in the super G. This tally included the second gold medal of these Games won by SOBC – Delta's Cory Duhaime!
This classy team also showed their spirit with their warm and gracious welcome of a group of local schoolchildren who came to watch and cheer!
5-pin bowling
Our amazing bowlers threw beautiful rounds. They impressed everyone once again with their support of each other and passion for their sport! Friday will be their final day of competition and we can't wait to watch them shine.
Port Alberni's Sebastian Thomas did a stellar job delivering the Special Olympics Athlete's Oath in both English and French to open Thursday afternoon's bowling!
Read about the bet between SOBC – Dawson Creek's David Johnston and coach Jack Walsh that emerged after Johnston bowled a stunning 353 in practice here this week
Overheard in the hall at the Team BC residence on the morning of February 28 (competition day 3)
"I'm so excited about today!" Meanwhile, a cross country skier sent a quotation to her teammates: "Do not fear failure, but please be terrified of regret."