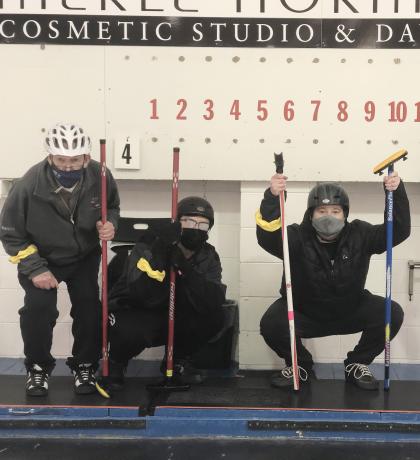 In 2022, Special Olympics BC is beginning the new year by kicking off a new Games cycle! Winter-sport Regional Qualifiers will be hosted in communities around the province, beginning with the Speed Skating Regional Qualifier on January 16 hosted by SOBC – Coquitlam!
These competitions will be the qualifiers for the 2023 Special Olympics BC Winter Games.
Special Olympics BC programs and events have very strong safety protocols in place to ensure the health and wellbeing of all participants. Tournaments and competitions for team sports are currently paused, following provincial requirements.
Any spectators who would like to attend Regional Qualifiers are asked to check with their local coaches before coming to an event. Competition organizers will keep coaches up to date on whether there will be any capacity restrictions, and will share information on safety requirements at the facility. 
Find details on 2022 Winter Regional Qualifiers 
SOBC Leadership Council Chair Donna Bilous, also a dedicated speed skating coach, said her skaters are thrilled to return for this season with competitions planned and coming soon.
"That was the exciting part. For our athletes it is about that racing," Bilous said.
Athletes and volunteers can register today to be part of Special Olympics BC's safe return to sport and exciting return to competitions!
FIND REGISTRATION FORMS AND SAFETY INFORMATION 
Find the latest Return to Sport safety news
There will be summer sports competitions in 2022 as well – stay tuned for more information to come about the summer sports competition cycle!
Virtual Curling Competition November 2021
The pandemic taught all of us a lot about using virtual tools to create new opportunities. Special Olympics BC athletes, coaches, and volunteers continue to use these lessons in inspiring ways! 
In the 2020-21 season, Special Olympics BC coaches and volunteers ran our first-ever virtual competitions, including SOBC – Burnaby and Quesnel's virtual curling competition. This season, they are continuing to use virtual competitions as another tool to create motivation and opportunities for athletes.
SOBC – Burnaby curling coach Debra Colvin reached out to curling programs province-wide, and brought together eight Locals in a virtual competition! Between November 20 and 26, curling teams from SOBC – Burnaby, Campbell River, Delta, Powell River, Quesnel, Surrey, Terrace, and Vernon showed their skills competing in this virtual event. 
In the competition week, each program used one of their practice nights to play a four-end game. Coaches set up each end using a different pre-set layout, and their curlers played to score as many points as possible in each end. The coaches recorded points scored in each end, and submitted them to the SOBC provincial office for tabulation.
Colvin said the response was very positive, and the results were very good.
"It did bring out the competitive nature in our athletes, and I heard the same from other Locals – they really felt like they were competing, and they really enjoyed the pre-set layouts," she said.
During the pandemic pause of in-person programs, Colvin noted that athletes have been badly missing the whole Special Olympics experience of social bonds, competing, and travelling. While they wouldn't have thought of virtual competitions prior to COVID, now athletes and coaches know it is an option, and it comes with a lot of positives, Colvin said. 
"It just gets you thinking in a different light. The athletes like competition, they really enjoy it, and it's the natural progression from the dedicated training they do every week. They definitely want to compete. And it was just so nice connecting to all the curling communities in B.C., because otherwise we don't have those opportunities. I really enjoyed just talking to the other coaches. It's a nice way to get back connected and inject a bit of competition in a different way.
"I'm really happy we did it, I'm thrilled with the Locals who participated, and I'm thrilled with the results, there was such a mix," Colvin said.
The SOBC – Burnaby athletes were asked to describe the experience in one word, and they said: fun, teamwork, great, helpful, learning, tiring, challenging, interesting, wonderful, training!
Other coaches said the athletes were excited about the opportunity to compete, and had a lot of fun with the experience, enjoying the chance to practice their skills and game strategies.
Huge thanks to Colvin for her inspiration and organizing efforts, and to all the athletes and coaches who committed to the competition! 
Watch the slideshow created by Coach Colvin 
SOBC – Abbotsford's curlers had intended to play in the virtual competition as well, but had to postpone their involvement due to flooding of their rink's compressor room; our thoughts are with all the individuals and communities who have been dealing with flood recovery. Kudos to the SOBC – Abbotsford program for getting back up and running!
A shoutout also goes to the SOBC – Dawson Creek and Fort St. John curling programs, as they ran their own in-person competition this winter! Way to get back in the game! Athlete Reporter David Johnston of SOBC – Dawson Creek caught up with competitor Levi from Fort St. John after the competition – their interview will be posted soon!