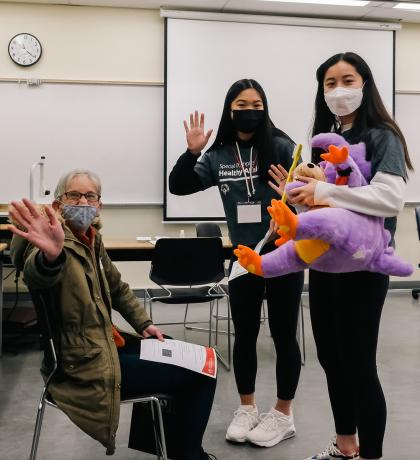 Seeking to tackle the health crisis faced by individuals with intellectual disabilities, who are still far too often forgotten and left behind by our health system, Special Olympics BC runs year-round health initiatives to help improve health and access to care.
In 2020 and 2021, we continued our efforts to create #InclusiveHealth and successfully retained our official Special Olympics International Healthy Community status, thanks to the dedication of athletes, volunteers, and supporters throughout the province! 
From 2016 to 2019, Special Olympics BC developed and expanded our health initiatives with the help of a three-year Special Olympics Healthy Communities grant funded by the Golisano Foundation. 
Special Olympics Programs receive Healthy Community recognition when they achieve a significant level of effort and success in creating year-round access to quality health care and health and wellness initiatives for people with intellectual disabilities. Through health programs, partnerships, and Special Olympics athlete leadership, we are paving the way for inclusive health.
This milestone for Special Olympics BC is made possible by the dedicated efforts of many volunteers throughout the province, including the many coaches and volunteers in all Locals who champion health and make health programs possible, and of the many volunteer health practitioners and students who give their time to Special Olympics BC and our health initiatives. 
This achievement is also a testament to the dedication that many SOBC athletes have developed to healthy living and making positive health changes in their lives. Thank you all for your commitment to making your lives and your communities better through improved health and communication!
Here in B.C., Special Olympics BC's health work is made possible by the ongoing support of our provincial partners and fundraising events, including the leading role of the Government of British Columbia and Government of Canada, and the generous support of provincial partner Methanex. Our barrier-breaking initiatives were also supported by a Special Olympics International Healthy Communities Next Generation grant.
In 2020 and 2021, Special Olympics BC continued to be a "model for integrated health and fitness," according to Special Olympics International. We expanded virtual health programming, including new educational opportunities about mental and sexual health, and we served as an international pilot program to help offer Healthy Athletes screenings in a virtual format. 
Some of our health highlights from 2020 and 2021:
Offering virtual athlete health education workshops and activity sessions throughout 2020 and 2021 – click here to read about the spring 2021 events 
Creating virtual training and wellness resources like the My Mental Wellness Workbook and calendars of at-home challenges to stay active and healthy 
Delivering virtual Health Messenger training, helping athletes educate peers and advocate in their communities
Delivering Healthy Athletes screenings both virtually and in person 
Providing enhanced training and resources for coaches running Club Fit programs and functional testing, which help athletes build their fitness, sport performance, and overall health
Offering Fit Families & Friends programs 
Working on the development of an Inclusive Health Care Provider list, to help ensure people with intellectual disabilities can find health practitioners who have experience in welcoming and supporting them
Running surveys to gather and communicate data about the health of people with intellectual disabilities, who are still forgotten and left behind far too often
Developing education for medical professionals and students so they learn how to best support patients with intellectual disabilities
Working with partners through a wide range of education and health organizations to build resources and open hearts and minds
Working with partners in the Champions for Inclusive Health Stakeholder Coalition that is dedicated ending the health inequality faced by people with intellectual disabilities, creating barrier-breaking resources like their Inclusive Policy-Making Toolkit and Tips for Primary Care Providers
One of the biggest highlights of 2021 was returning to in-person health events! The December 2021 SOBC Healthy Athletes Screening Day provided in-person Health Promotion, Healthy Hearing, and Special Smiles screenings for 45 enthusiastic athletes. The screenings were delivered by by 37 dedicated volunteers, including students from the UBC and University of Victoria schools of audiology as well as the UBC pre-dental society. 
The event benefitted from the invaluable leadership of volunteer B.C. Clinical Directors Dr. Nancy Vertel (Special Smiles), Darlene Hicks, Alison Miller, and Martina Schlagintweit (Healthy Hearing), and Breezie Mitchell (Health Promotion). SOBC is so fortunate to have a number of health professionals volunteering their time as Clinical Directors – please click here to learn more about this opportunity that other Healthy Athletes volunteers have called "heart expanding."
Huge thanks to  all of SOBC's provincial partners who help make our vital ongoing health work possible. Sincere thanks also to all the volunteers and athletes throughout the province who achieved this milestone recognition! 
Let's all keep up the important work together to ensure people with intellectual disabilities have the same opportunity to be healthy as everyone else! 
Watch this video reminding us all why this work is so important: