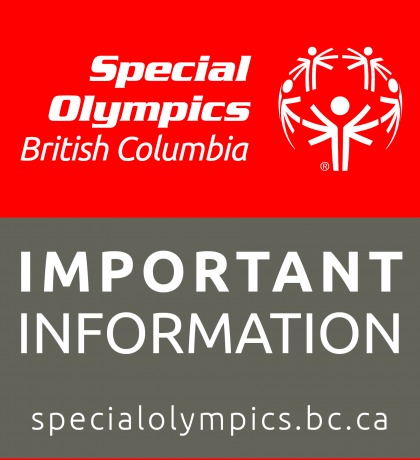 Based on our consultations with community members and provincial experts, Special Olympics BC invites in-person programs in Regions 3, 4, and 5 to resume if they want to do so at this time.
In all other Regions, in-person programs can continue as they have. 
The only in-person programs that must pause until further notice are powerlifting and indoor Club Fit, throughout the province. This is based on the current provincial restrictions that have temporarily suspended indoor strength and conditioning programs, while new guidance is being developed. 
During in-person programs, everyone must continue to follow the Provincial Health Officer's order requiring mask wearing in all indoor public spaces. And it's vital that everyone continue to diligently follow all the current SOBC Return to Sport safety protocols.
Programs must pause no later than December 18, giving everyone a break for the holiday season. In the new year, SOBC will review the current situation at that time, and will advise everyone by January 7 if in-person programs can reopen starting January 11. If you have any specific considerations to raise for your program, please reach out to covid@specialolympics.bc.ca. For virtual programs, the timelines can be decided by individual coaches in consultation with their Local.
Having reviewed our strong safety protocols, and consulted province-wide, we can conclude SOBC programs can still be offered safely as long as everyone continues to rigorously follow the Return to Sport requirements. We are hearing that it is important to continue offering whatever we can, to support the physical and mental health of our community members.
At SOBC's current sport levels:
All programs must only offer individual skill development exercises (i.e. no team or game play);
All participants at in-person programs must continue to make sure there are no gatherings before and after practices;
No spectators are permitted at programs;
No travel for SOBC sport and training programs outside of your community. It is important for everyone to stay as close as possible to the community where they live. SOBC recognizes that some individuals have been travelling to a nearby community to participate in a program; these participants can continue doing so, but no one else can start travelling outside their home community at this time. 
The province is currently reviewing the questions around sport and travel, and more updates will be forthcoming.
Everyone is asked to regularly check the Return to Sport resources on the SOBC website to ensure they are following all current protocols. 
Out of an abundance of caution, all meetings must be conducted virtually until further notice, and there should be no Local-led participation in any community holiday gatherings or events (if any are going ahead).
Special Olympics BC will continue monitoring the provincial guidance and providing updates. As you all know, this continues to be a fast- and ever-changing situation, so we appreciate everyone's patience, flexibility, and understanding.
We are so grateful to all the athletes, coaches, volunteers, families, and supporters who are working so hard to make SOBC's slow, safe Return to Sport possible.
If you have any questions or feedback, please don't hesitate to email covid@specialolympics.bc.ca. 
Upcoming virtual opportunities include:
Monthly calendars of daily at-home workouts and wellness activities – please click here
SOBC Virtual Athlete Personal Health Series, Virtual Healthy Athletes Education Sessions, Virtual Yoga Club, Virtual Fit Families & Friends, Virtual Club Fit – learn more
SOBC Virtual Year-End Party – week of December 14 – please stay tuned for details
More resources for staying active, connected, positive, and informed – please click here
Provincial Health Officer orders now in effect include:
Mask wearing in all indoor public and retail spaces, and in workplace common areas.
No events or social gatherings with anyone outside your household, or (if you live alone) outside your core bubble.
Essential travel only.